Kickstarter Project of the Week: BROK the InvestiGator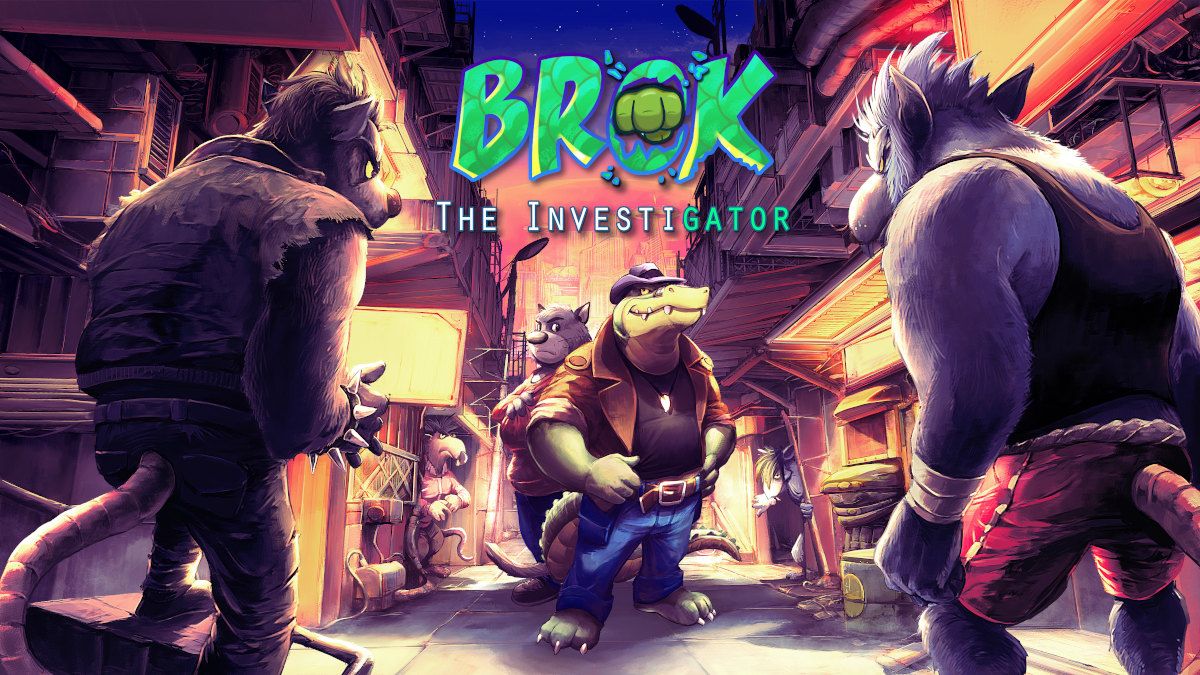 We're partnered with Skillshare, where you can do unlimited online courses that'll help you create art, make games, and even help you with school/university! Click here for a free 1 month trial.
For this week's Switch Kickstarter Project of the Week, we will be looking at COWCAT's BROK the InvestiGator. The game is slated to release in December 2021 on PC (via Steam and gog.com), PS4, PS5, Xbox and Nintendo Switch.
Here's the overview:
BROK the InvestiGator blends a Classic Adventure (puzzles, inventory, narrative...) with elements from Beat 'em Ups and RPGs!

What?! How does that even work?!

At any time, with the press of a button or mouse wheel scroll, you can switch between adventure and action mode.

The whole game - story, characters, gameplay - everything has been built around this premise that you can progress in various ways. Will you choose to solve mysteries with your brain, or will you break your way through?  

The game spans over 6 long chapters for 15 to 20 hours of gameplay on your first playthrough. (The prologue contains the first chapter)

Not an estimate - that's the actual time it took my early testers to finish it!

As you may notice, the characters and story are inspired by cartoons from the 80's/early 90's - but with a darker spin.

Past events lead to this corrupted world where a small number of privileged citizens named "Drumers" live under a dome, while others are forced to endure the threats of polluted slums.

Brok, former boxer turned detective after the death of his wife, was forced to leave the dome to take care of her son Graff. Always on the run, Brok can barely make ends meet and never has much time for him. Graff aspires to become a "Drumer" again - but trials on his path push him back...

Little do they know that bigger threats are upcoming - which may be linked to their own past.

How will they face them?... That's up to you!
BROK the InvestiGator brings something new to the classic point and click adventure genre with the ability to swap between adventure and action mode. The world is charming in its unique setting and right from the very beginning, there is a healthy dose of intrigue to immediately get the player hooked. The prologue demo that's currently available is quite sizeable and certainly had me itching for more.
This game required €12,000 and it is currently sitting at €20,222 after 445 backers with 26 days still remaining. However, there are various stretch goals this game can still reach, such as smoother animations, a theme song and a comic book. If you'd like to support the development of this game to help it come to Nintendo Switch, click the link below to visit the Kickstarter page.
Click here to check out BROK the InvestiGator
Click here to check out the last Kickstarter Project: Seasonspree
Thank you to our $5 and up Patreon Backers for their ongoing support:
Belinda Cubitt
Jon Crispe
Matthew Sandstrom