F.I.S.T.: Forged In Shadow Torch - Switch Review
"Dark, layered and charming."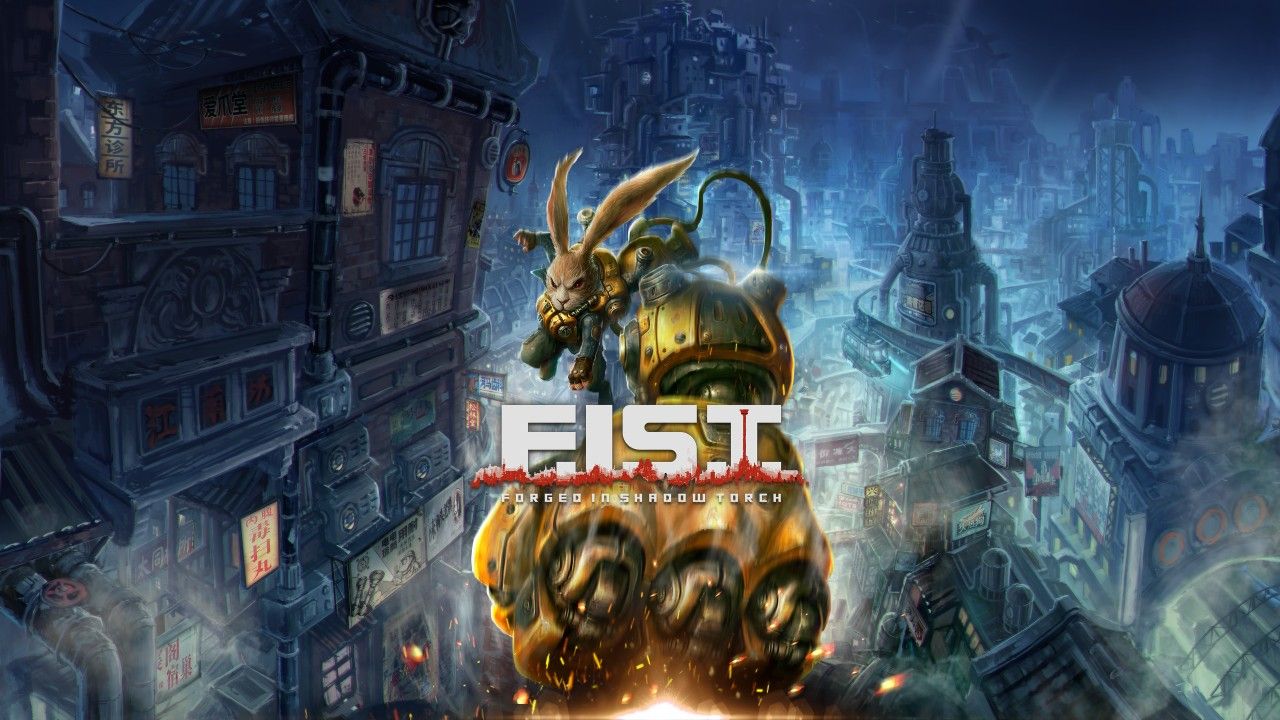 We're partnered with Skillshare, where you can do unlimited online courses that'll help you create art, make games, and even help you with school/university! Click here for a free 1 month trial.
F.I.S.T.: Forged In Shadow Torch was released on PlayStation and PC in 2021 and now becomes the latest Metroidvania on the Nintendo Switch. The plot follows Rayton, an anthropomorphic rabbit, as he defends the honour of Torch City against a horde of nasty robots known as the Legion. Originality is key when it comes to a crowded genre such as this, and let's see if F.I.S.T.: Forged In Shadow Torch achieves that!
The Good
Having played many games recently that have either had multi-platform releases or have been ported to Nintendo Switch, I've often been left disappointed at what feels like a rushed attempt to get a game out on Nintendo's beloved console. However, F.I.S.T.: Forged In Shadow Torch is a triumph in porting; it looks, sounds and plays smoothly. This may not be much to ask but trust me, it doesn't happen much these days! (See my Souldiers and Hell Pie reviews).
The cinematics and voiceover work are also absolutely stellar in F.I.S.T.: Forged In Shadow Torch. During the cutscenes, it almost felt like watching a Pixar movie. The tales of Rayton and his cohort of other anthropomorphic animals are given depth and meaning by the dark nature of the story, which really comes to the forefront with the dramatic cinematics and punchy, well-delivered dialogue.
I really enjoyed the story in F.I.S.T.: Forged In Shadow Torch and the way it unravels throughout the game. Rayton used to be an ace pilot in the army and along the way, he encounters a few former members from his squadron (some who are good, but others who are more treacherous). One of Rayton's early perils involves him trying to rescue his pal Urso (who I think is a bear) and the whole scenario plays out with a Final Fantasy VII-esque backdrop, which made me feel like I was chasing down Shinra on the Planet.
TL;DR
Well-polished Nintendo Switch port
AAA quality cinematics, animation and voiceover work
A beautiful melancholic setting and plot
The Bad
There's honestly not a whole lot to grumble about with F.I.S.T.: Forged In Shadow Torch. I guess, ultimately, when you look past the cutscenes and the story, it does basically play like a dozen other Metroidvanias and in terms of gameplay, hardly anything original is brought to the table. That said, it does everything adequately; the combat is pretty standard, as is the exploration, and the bosses are solid but not particularly memorable nor challenging.
Lastly, there are nowhere near enough fast travel points, which does make some of the traversal a bit dull, especially when you're treading over old ground. I kept expecting a new fast travel mechanic to be unlocked as the game world got larger but alas, no. As a result, getting around in Torch City can, at times, be pretty dull!
TL;DR
Pretty standard gameplay for a Metroidvania
Nowhere near enough fast travel points

Final Score: 7/10
Don't be put off by all of the cute looking animals on the box art; F.I.S.T.: Forged In Shadow Torch is dark, layered and charming. The story is compelling and whoever did the cinematics deserves a pay rise! Sure, there are some better Metroidvanias out there, but fans of the genre will certainly not feel shortchanged.
Thank you for checking out our F.I.S.T.: Forged In Shadow Torch Switch review, thank you to BILIBILI HK (via PLAION PR) for providing the review code and thank you to our Patreon Backers for their ongoing support:
Bel Cubitt
Rachelle Suri-Tucker