Ultracore - Switch Review (Quick)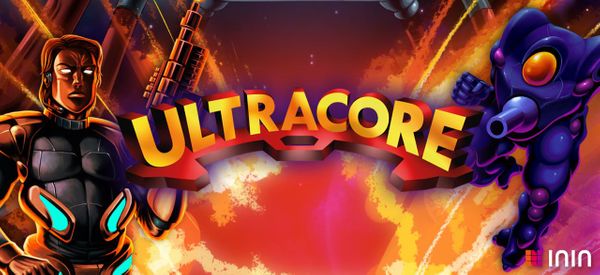 We're partnered with Skillshare, where you can do unlimited online courses that'll help you create art, make games, and even help you with school/university! Click here for a free 1 month trial.
There have been plenty of reviews here at Switchaboo for stylized games playing on a nostalgic longing for the days of 2D shoot-em-up side scrollers, but Ultracore is the real deal, an honest to god return from the pits of gaming history; it was, way back in 1994, an unreleased Mega Drive title that was eventually released as a bonus addition to the Analogue Mega SG, but now it is available for all to play on PS4 and Nintendo Switch. But how does it hold up all these years later as a sparkly new debut? Is it worth nabbing?
Good
The history behind Ultracore is an interesting one. You definitely know the developers behind this action-packed macho shooter, as it was built up by Digital Illusions who went on to become the studio known as DICE, the brainbox behind Battlefield and the reboot of Star Wars Battlefront. Given that they developed this in the 90s, its influences are plentiful, and where it may have gotten lost in the crowd back in the good old days, it stands out in spades as a true retro experience for modern platforms in 2020.
Each level is distinct from the last whilst retaining that grit and grunge with its muddy color palette, making you feel like you've stepped into an old action flick that's chock full of robotic foes and war-torn landscapes. In true shooter fashion, there's a wonderous arsenal of weapons ready for you to find and unleash on your foes, and with difficulty ramping up as you progress, your sparkly newfound toys will serve you well. What's brilliant is the trade-off – the starting weapon isn't too effective, especially as you plow on, but it has unlimited ammo, whereas others do more damage but can run out of bullets.
Enjoying our Polandball: Can Into Space! Switch review so far? Don't forget to like us on Facebook and follow us on Twitter for more Nintendo Switch content. Also, please consider supporting us on Patreon so that we can continue to do what we love doing.
What stands out is its synthetic up-beat action-packed soundtrack that you can swap out for an equally as engaging classic-style one, which only serves to make the journey feel all the more impactful. What would Doom be without its metal backdrop, or Super Mario Bros without its cheerful upbeat score complementing the scenery? Ultracore has a score equally as fitting to its metallic 90s aesthetic.
Bad
Enemy variety is somewhat generic, with a lot of the robots and foes feeling uninspired and repetitive in design, but they more than fit the aesthetic so it's not jarring or out-of-place, just a little on the bland side. The level design is also, in true 90s gaming fashion, a tad unfair, with plenty of crucial jumps that require pixel-perfection, so be careful when jumping over a black void as you might just plunder to your death, and with the game sporting limited lives in its retro glory, that can cost you.
Aside from the granted archaic level design and the uninspired sprites, Ultracore suffers from a somewhat clunky control scheme with aiming whilst running often becoming a chore as you are locked into the way your mullet-man is facing. It's tough to get the hang of and doesn't feel as slick or intuitive as many of its 90s cohorts or the modern delves into this genre of old.
Final Score: 70%
If you're itching for an authentic retro fix on your modern console, then Ultracore will satisfy those needs, as it unabashedly screams 90s sidescroller action, with platforming galore, boss fights a plenty and satisfying sprite deaths as you unleash a horde of bullets on the unsuspecting robotic foes lingering on your path to victory.
Thank you for checking out our Ultracore Switch Review (Quick), thank you to PR Hound for providing the review code and thank you to our $5 and up Patreon Backers for their ongoing support: