Switchaboo's Nintendo Direct Predictions (February 2021)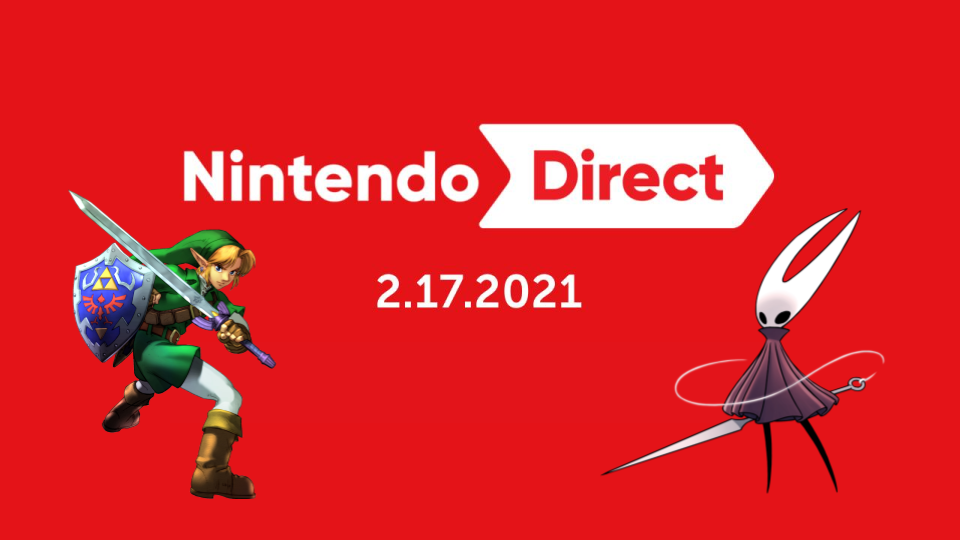 We're partnered with Skillshare, where you can do unlimited online courses that'll help you create art, make games, and even help you with school/university! Click here for a free 1 month trial.
530 days. The 530 day drought is finally coming to an end with the announcement of a massive 50 minute Nintendo Direct on February 17. The last Nintendo Direct was in September 2019 and the fact that this Direct is said to go on for 50 minutes, there's a lot to cover here. So considering we've had such a long time to speculate, the Switchaboo team has a few predictions to get off our chests.
Bayonetta 3
Predicted by Alex Harding
Pleeeeaaaase!! The last we heard about Bayonetta 3 in an official setting was The Game Awards 2017... TWENTY-SEVENTEEN! Hideki Kamiya has recently commented by hinting that we should hear something this year but Kamiya is a tough nut to crack and his word isn't something to bank on. But it does make sense for Bayonetta 3 to be in a Direct considering Nintendo's backing of the series.
Dark Souls II: Scholar of the First Sin
Predicted by Dylan Covington
We got the first Dark Souls: Remastered on the Switch, so why not the sequel? The first instalment sold over 100K units within its first week on Switch and with that success, it makes sense to bring across the sequel with all of its DLC included.
Elder Scrolls IV: Oblivion
Predicted by Dylan Covington
We always like to see the random and unexpected announcements and we would love to revisit Cyrodiil on the go. 2021 is the game's 15th anniversary and a remastered version would make many Elder Scrolls fans incredibly happy, myself included.
Hollow Knight Silksong Release Date
Predicted by Dylan Covington & Alex Harding
The announcement trailer above dropped on February 15, 2019. So how fitting would it be if a release date was formally announced on February 17, 2021! Hollow Knight Silksong was originally slated for 2020 and we've seen little bits and pieces here and there but overall, Team Cherry have been relatively quiet. Also, the original Hollow Knight was shadow dropped (announced and released on the same day) back at E3 2018 and hey, that could happen again with the sequel... right?
Mario Kart 9
Predicted by Steve Whiting
Only one of us thinks that there will be a new entry in the Mario Kart series but if Steve is right, then he'll have certainly shown the rest of us! It's exciting to think where Nintendo could take the series in a ninth instalment, especially after the stellar Mario Kart 8 Deluxe and Mario Kart Live: Home Circuit.
Mario + Rabbids: Kingdom Battle Sequel
Predicted by Alex Harding
A few weeks ago, the (@)RabbidsOfficial Twitter page temporarily changed their handle to @MarioRabbids, only to conveniently change it back. Considering that Mario + Rabbids: Kingdom Battle is one of the Switch's highest selling games must peak Ubisoft's interest to continue making games in this series and with the close relationship between the two companies have only thrived since then, I certainly think that this prediction is a safe one.
Enjoying our February 2021 Nintendo Direct Predictions so far? Don't forget to like us on Facebook and follow us on Twitter for more Nintendo Switch content. Also, please consider supporting us on Patreon so that we can continue to keep the website running and get our fortnightly podcast two days early.
A New The Legend of Zelda: Breath of the Wild Sequel Trailer
Predicted by Alex Harding, Nathan Rudge & Rachelle Suri-Tucker
It's been almost two years since the reveal of the Breath of the Wild sequel and fans are hungry for news. Whilst a release date might be a bit too much to ask for, just to know a little more about what Calamit Ganon is doing in that E3 2019 trailer and what's happening with Hyrule Castle? Hopefully some of our answer will be answered real soon.
No More Heroes 3 Release Date
Predicted by Alex Harding
This is another title that was slated to 2020 until it unfortunately received a delay. No More Heroes III was initially revealed back at E3 2019 and considering all of Suda51's teases, we think it's about time we knew when to throw a fistful of cash at our switches.
Something for Kid Icarus' 35th Anniversary
Predicted by Alex Harding
There are three big 35th anniversaries this year and don't worry, we're getting to the others, but let's see some love for Kid Icarus. It's been nine years since the latest entry with Kid Icarus: Uprising and a new entry may see the series get the love that it deserves.
Something for The Legend of Zelda's 35th Anniversary
Predicted by Dylan Covington, Alex Harding, Rachelle Suri-Tucker & James Troughton
The Legend of Zelda is one of Nintendo's biggest IPs and its 35th birthday is coming up on February 21st (my birthday, just saying). This could be Grezzo's 3DS Ocarina of Time and Majora's Mask remakes and/or the Wii U The Wind Waker and Twilight Princess ports. Perhaps Skyward Sword HD? I'm also still hoping for Zelda 35...
Something for Metroid's 35th Anniversary
Predicted By Dylan Covington & Steve Whiting
If The Legend of Zelda gets to celebrate its 35th anniversary, then why not Metroid? Now will it be Metroid Prime 4... I doubt it, but Steve thinks it may finally be time; perhaps the Metroid Prime Trilogy HD Collection or even a new 2D Metroid game by MercurySteam. Let's see some love for our favourite bounty hunter!
Super Mario Galaxy 2
Predicted by James Troughton
James certainly enjoyed playing through the classics on the Super Mario 3D All Stars collection, but it felt like a certain piece was missing. With fans pining for every home console 3D Mario game to be on Switch, surely Nintendo must place the final piece of the moustachioed puzzle.
Super Smash Bros. Ultimate Fighter
Nintendo has told us to expect some Super Smash Bros. Ultimate news and what other news could there be but a new character? We all have our own predictions with this:
Dylan Covington Dr. Eggman (Sonic The Hedgehog) or Travis Touchdown (No More Heroes)
Alex Harding Sora (Kingdom Hearts)
Nathan Rudge Kiryu Kazuma (Yakuza) or a Monster Hunter representative
Rachelle Suri-Tucker No one - they'll announce a Third Fighter's Pass
James Troughton Master Chief (Halo)
Steve Whiting J-Bomb (Blast Corps)
Wii Sports (Or a Switch Equivalent)
Predicted by James Troughton
In episode one of the Switchaboo Podcast, James mentioned that he has been scouring the eShop for a bowling game that brought back the nostalgia from Wii Sports. Alas, none of the dozens of bowling games currently available fill this want, so a Wii Sports (or something akin to) entry would go down nicely and well, James says he feels confident...
Will there be an announcement for a Nintendo Switch Pro?
We've certainly talked about it but our gut is saying... no. Not yet, at least. The Switch is still selling like hotcakes and alienating the 80K+ Switch owners would certainly be a bold move on Nintendo's part. However for us here, even though we don't think it'll happen, we'd love to be proven wrong.
Thank you to our $5 and up Patreon Backers for their ongoing support:
Bel Cubitt
Jon Crispe
Matthew Sandstrom