Star Renegades is Getting Switch Physical Editions With a Strictly Limited Special & Collectors Editions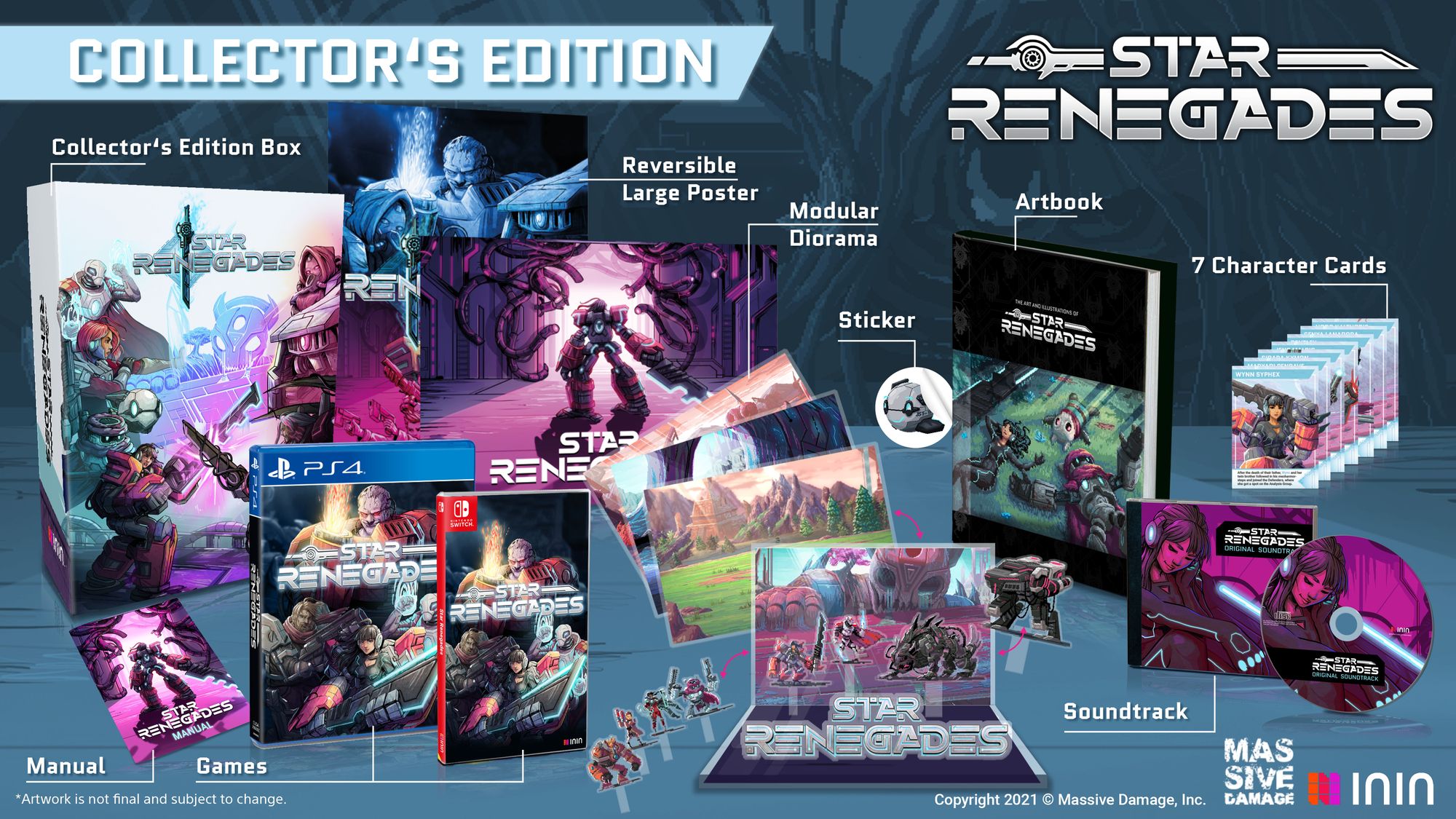 We're partnered with Skillshare, where you can do unlimited online courses that'll help you create art, make games, and even help you with school/university! Click here for a free 1 month trial.
In November last year, Massive Damage and Raw Fury released Star Renegades, a gorgeous pixel art strategy RPG, on Nintendo Switch. Five months later, ININ Games has announced a partnership with Raw Fury and Strictly Limited Games to release a physical edition, as well as special limited and collectors editions for the hardcore collectors.
Here's the press release:
ININ Games together with Raw Fury proudly present a really unique game that calls for players who are not afraid of any challenge! The rogue-lite strategy RPG Star Renegades - created by the masterminds and makers of Halycon 6: Starbase Commander at developer studio Massive Damage - will be coming soon to North America and Europe as physical versions for Nintendo Switch and PlayStation 4!

Furthermore, there will be exclusive Limited and Collectors' Editions for all of the dedicated collectors and passionate Star Renegades fans out there! Both editions will be available for pre-order from April 22nd, 2021, 7pm (CEST) only at the Strictly Limited Games Partner Store. The retail pre-orders will be expected to launch in the next few weeks.

RESIST. RECLAIM. REVIVE. REPEAT.

Star Renegades puts the player right into an interplanetary rebellion against The Imperium determined to rule the galaxy. In this ongoing fight, a service robot, named J5T-1N came to warn the dimension of imminent extinction. The player leads a ragtag rebel squad that forms to fight against a powerful, evolving, merciless adversary.

The game comes with a fast-paced, tactical, turn-based, timeline battle system that offers a variety of options and strategies to bring the opponents to their knees! The more the game progresses, the stronger the squad becomes. Players can unlock, trade and upgrade the rebels with tons of weapons, loot, and gear. But defeating the enemies will not be a piece of cake! Strategy and experimentation are required to beat the opponents and save the universe!

These moments of success will reward the player, as well as the beautiful look of the game.

Star Renegades features a pretty pixel style, the journey through the planets and the varied, challenging battles are accompanied by superior sound design and an awesome synth-wave composition.
Features
Fast-paced tactical turn-based timeline battle system
Hauntingly beautiful landscapes and ruins
Pretty pixel art style
Procedurally generated dungeons
Unique enemies and bosses
Epic synth-wave compositions and excellent sound design

Special Editions in the Strictly Limited Games Partner Store which features:
Game for Nintendo Switch or PlayStation 4
Manual
Individually numbered
The Limited Edition is available for €29.99 and limited to 2.500 copies for Nintendo Switch and 1.500 copies for PlayStation 4 worldwide.
The Collection Edition Features:
Game for Nintendo Switch or PlayStation 4
Collectors' Edition Box
Manual
Modular Diorama
Artbook
Soundtrack
Large Poster
Character Cards
Sticker
Individually numbered
The Collectors' Edition is available for €49.99 and limited to 2.500 copies for Nintendo Switch and 1.500 copies for PlayStation 4 worldwide.
Click here to put in your pre-order.
Source: PR Hound