Overcooked 2 Receiving New Hangry Horde DLC TODAY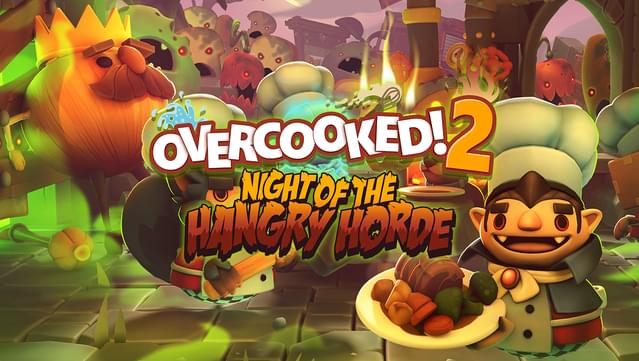 We're partnered with Skillshare, where you can do unlimited online courses that'll help you create art, make games, and even help you with school/university! Click here for a free 1 month trial.
Team17's critically-acclaimed Overcooked 2 just keeps growing, with the new Hangry Horde DLC releasing today. Check it out:
Team17, a global games label, creative partner and developer of independent, premium video games in partnership with multi-award-winning indie studio Ghost Town Games is thrilled to announce the release of a new DLC pack for Overcooked! 2 today. The Night of the Hangry Horde DLC is available digitally now for PlayStation 4, Xbox One, Nintendo SwitchTM and PC both as a separate DLC pack and for any existing Season Pass owners.
 
As a thank you to everyone who has supported the game so far, Ghost Town Games and Team17 have also released a free piece of DLC for all Overcooked! 2 owners, the All at Sea Chef pack. This new pack includes five new chefs to cook up a storm as.

Night of the Hangry Horde DLC
The Onion Kingdom is under attack once again, but this time the enemy have brought friends. The unbread have risen again and have turned their appetites to the Onion King's castle! Platers must tackle this returning threat using all of their cooking know how.
 
Night of the Hangry Horde includes new tasty recipes, four extra chefs, twelve creepy new kitchens and eight all new horde wave levels. Night of the Hangry Horde is included within the Season Pass, or available separately for £7.99/8,99€/$9.99.
Key features: Horde mode! Feed the enemies to keep them at bay and stop them from attacking the castle. These eight all new horde wave levels include the ability to repair the castle and unlock shortcut gates using the coins you earn. Watch out for the different enemy types: the unbread; the zombie apple, which is slow, causes huge damage and requires two meals to defeat; and the zombie chili pepper which has fast attacks and mobility! New recipes! Prepare guillotine chopped soup, fruit pies and roast dinners. Roast dinners can be cooked quicker by adding more coal to the furnace Four New chefs! New spooky chefs Ghost, Vampire and Werewolf plus Boxhead, a returning favourite from the original Overcooked! New levels! Nine creepy new kitchens and three new hidden Kevin Kitchens 
Season Pass 

The  Overcooked! 2  Season Pass will satisfy the hungriest of customers, giving players a saving on three extra portions of content. This includes Campfire Cook Off, Night of the Hangry Horde and a further DLC pack. The season pass is available digitally now on PlayStation 4, Xbox One, Nintendo SwitchTM  and PC priced at £14.99/€16.99/$19.99.
 
All at Sea Chef Pack 
It's time for this ragtag group of salty sea chefs to join your crew! With this new team of savoury sailors on board, cooking in your kitchen will be plain sailing. Choose from the pirate chefs, mermaid chef, narwhale chef or shark chef.
Source: Team17 PR