Nintendo E3 Direct Recap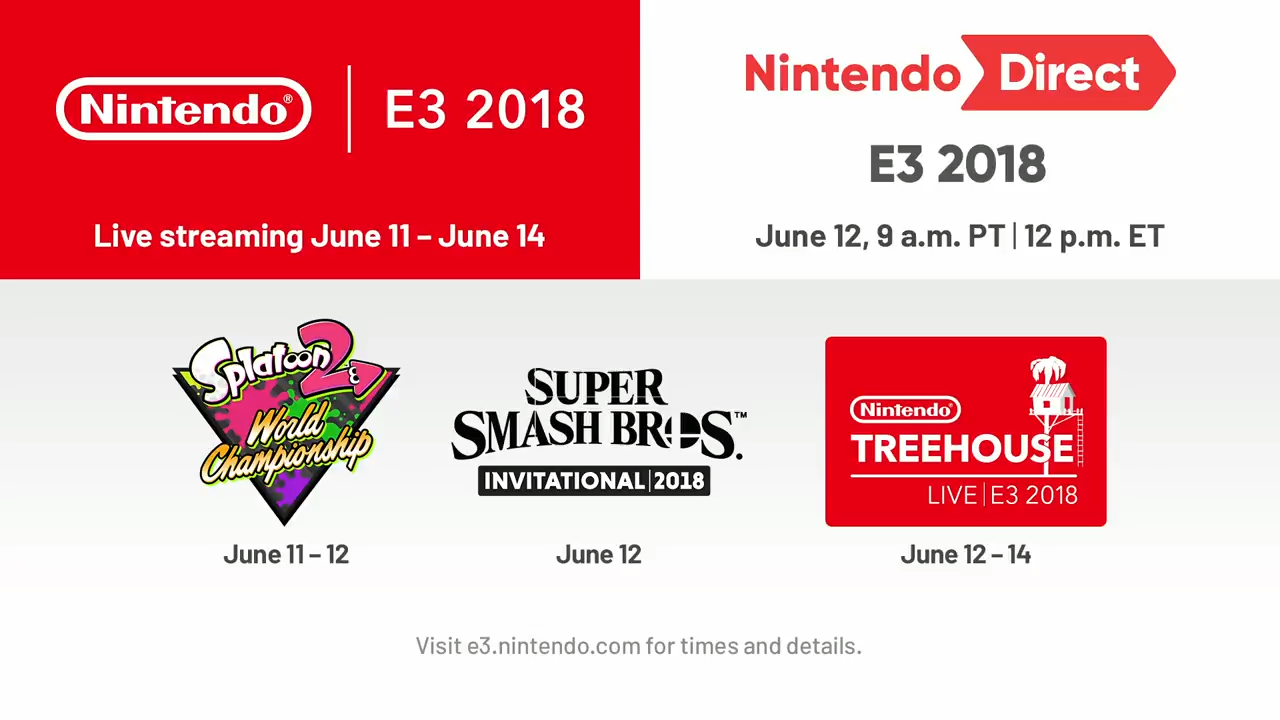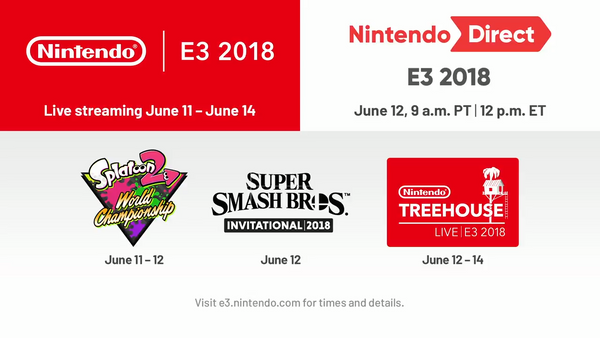 We're partnered with Skillshare, where you can do unlimited online courses that'll help you create art, make games, and even help you with school/university! Click here for a free 1 month trial.
As they always do, Nintendo closed the series of conferences at E3 2018 on Tuesday, June 12. Their annual video presentation has taken on many forms and many titles over the years since they abandoned the traditional live conferences, with their 2017 edition being titled the "Nintendo Spotlight." Last week, it was officially announced that this year, their video presentation would indeed be called an E3 Direct, pleasing dedicated fans who were looking forward to rapid fire headlines announcing tons of new first and third-party titles.
Right from the outset, Nintendo didn't let anyone down. Opening the show was a brand-new title slated for 2019, titled "Daemon X Machina." Developed by Marvelous Entertainment for the Nintendo Switch, the title is a fast-paced action game where players take control of mechs in a hyper-stylized world. This title was a nice surprise for fans who expected to only see previews of previously announced titles, or games that would line the 2018 release calendar.
The video next took a look at upcoming DLC for "Xenoblade Chronicles 2," the JRPG from Monolith Soft that was released in December of 2017. This DLC titled "Torna: The Golden Country" is the hotly anticipated extra story chapter that should delve provide some deeper lore for players who have already completed the game.
Reggie was next to appear on screen, delivering his usual message of thanks to fans around the world who have spent their time supporting the Switch. This launched us into a look at the new "Pokemon Let's GO!" games, with the announcement that players who purchase the PokeBall Plus accessory will have exclusive access to Mew. For more details on the upcoming titles, take a peek at our closer look at the newest titles.
Another pleasant surprise was "Super Mario Party." Going back to the roots of the series in turn-based board game action, players are no longer required to traverse the boards together in linear fashion. The game launches on October 5th, 2019, and will feature mini-games, single joy-con play, and the ability to play together on two different Nintendo Switch systems.
The final new reveal was a first look at the new "Fire Emblem: Three Houses." First teased at the Nintendo Switch January Presentation in 2017, the title marked the franchise's first mainline jump into 3D, and is expected to capitalize on the success of the wildly popular "Fire Emblem Heroes" which was released for mobile devices last year. The game quickly saw over one million downloads, which bodes well for the future of the series on the Switch. The game itself looks stunning, with beautifully rendered 3D characters and world. Ultimately, while the game was a visual treat, fans will be disappointed that it will not release in 2018 as was expected, but is instead going to take up the 2019 spring slot.
From that point, it seemed that Nintendo seemed to lose some steam. Following these impressive announcements, Reggie re-appeared on screen and launched us into quick looks at "Fortnite," "Overcooked 2," "Killer Queen Black," and "Hollow Knight." While all undoubtedly great and popular games, the former three were already leaked prior to the direct in an image that appeared online, while the latter was already known and expected for the system. While players reasonably expected these titles to be a drop in the bucket of third-party support, we can forgive them for being disappointed.
The rest of the highlight reel featured "Starlink" which had already been announced at Ubisoft's conference at E3 2017, "Arena of Valor," also announced last year, "Minecraft," "Just Dance 2019," and "DragonBall Fighter Z." While "DragonBall" is a huge get for Nintendo and is proof that Bandai-Namco takes Nintendo's newest console seriously, it too had already been leaked in that same blurry document.
"Carcassone," "Ninjala," (a new title revealed by GungHo in a promotional video) and "Ark: Survival Evolved," are all good fits for the system and will help soften the blow, but aren't exactly the AAA titles that fans were hoping to see from companies like Capcom, Bethesda, or Rockstar. While it's always important to keep expectations in check regarding a portable system, upcoming ports like "Wolfenstein 2: The New Colossus" prove that the Switch is more than capable of handling some more graphically intense titles. Teases for titles like the newest "DOOM" would have been a great way to re-assure fans or prospective owners still hesitant about picking up the system after the WiiU.
The last large section of the direct, unsurprisingly, belonged to the new "Super Smash Bros." It was presented by none other than Masahiro Sakurai himself, and provided some intriguing first looks at the game, subtitled "Ultimate." On top of the inklings making their debut from the "Splatoon" franchise, Sakurai confirmed that all fighters that have previously appeared in the series would be returning for this biggest entry ever. It's a nice surprise for fans who lamented the loss of the Ice Climbers or Snake, and should help shake up the competitive scene. It also shows greater relationships between Nintendo and third-parties such as Konami, who announced their newest Nintendo Switch title earlier today. This could bode well for fans of other franchises, since it could continue to pave the way for other cross-overs in the future.
The game will also feature new and updated stages, mechanics, character designs, and gameplay elements, but you can read all about that in our more detailed look at the title here. As it was expected however, "Super Smash Bros." stole Nintendo's show, and should do its fair share at encouraging Nintendo Online subscriptions, but does come with some concerns of its own. It launches much later than most would have expected by squeaking in just before the holidays and could come with some balancing issues due to its larger cast. In terms of Nintendo's paid online service, it also means that "Mario Tennis Aces," "ARMS," and "Splatoon 2" (which received another trailer for its upcoming "Octo" expansion) will be expected to carry the burden from September until "Smash" drops in September, which could mean a slow start to the service that limits the number of players playing online.
The biggest problem with Nintendo's E3 presentation didn't have anything to do with its quality, but more so with its quantity. While there were a number of titles shown off for the first time, fans knew about many of them already, and many were indie titles which don't exactly match the hype of E3. After the jam-packed release schedule last year, many fans were excited to see if Nintendo could match their output in 2018, but the January Direct seemed to crush these expectations. Game releases were light for the first half of the year, and while the summer will pick up with the release of "Octopath Traveler," "Mario Tennis Aces," "Wolfenstein 2," and "Dark Souls Remastered," the end of year seems to slow down again until November marks the release of "Pokemon."
In a similarly disappointing vein, many anticipated titles were not announced, or were absent altogether after being previously revealed. "Yoshi" is still missing in action, as was Retro Studios. "Metroid Prime 4" and "Bayonetta 3" were not given any updates (not that we would have expected them to, since the direct was supposed to be 2018 only), but most notably "Pikmin 4" was omitted, yet again. In the case of both "Pikmin 4" and "Yoshi," it doesn't fill fans with confidence that the titles are following productive, healthy development schedules. Third parties being absent isn't too uncommon for Nintendo platforms, but we do expect to see a little more output from Nintendo themselves, especially considering they haven't been supporting the 3DS as of late, either.
Ultimately, it's hard to say that Nintendo's E3 Direct was disappointing, but it definitely was underwhelming. Unlike 2016 where "Breath of the Wild" stole the show by shattering all expectations, "Smash" was a headliner where fans already knew a large amount of what to expect from the title. It will be a great game regardless, but in terms of putting on a great show it's not a one that can capture the attention of lapsed Nintendo fans that have found their way to other systems. It's not unreasonable to expect a slightly more prolific output, but fans should still remain excited about the future of the system. The absence of many games we already know about seems to suggest 2019 release dates, which combined with "Fire Emblem Three Houses," and "Daemon X Machina" promise a momentous 2019. Until then, "Octopath Traveler," "Pokemon," and "Smash Bros." should be more than enough to keep fans busy.
You can watch Nintendo's E3 direct below, and be sure to catch both their "Splatoon 2" and "Super Smash Bros. Ultimate" tournaments as the week progresses.