Nintendo Direct Recap (September 2018) - With Trailers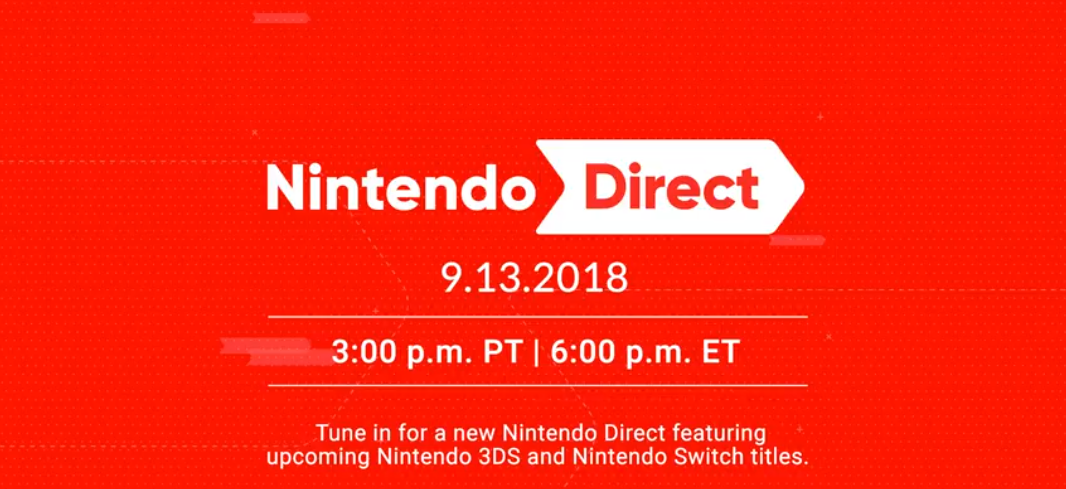 We're partnered with Skillshare, where you can do unlimited online courses that'll help you create art, make games, and even help you with school/university! Click here for a free 1 month trial.
In case you missed the recent Nintendo Direct (September 2018), we've got the full recap for you right here…
Nintendo 3DS
Kirby's Extra Epic Yarn
Nintendo
Keep those ports coming to the 3DS! Kirby's Epic Yarn includes every stage from the Wii version, along with new abilities and mini games exclusive to the 3DS version.
Release Date: 2019
Mario and Luigi: Bowser's Inside Story + Bowser Jr's Journey
Nintendo
In this Direct, we got to see a little more about the DS port to the 3DS, along with the new mode featuring Bowser Jr himself. They also announced a firm release date…
Release Date: January 11, 2019
Luigi's Mansion
Nintendo
With a bit of a surprise, local 2-player co-op mode was announced in a brand new feature! The second player can explore the same mansion as an even greener guy if they also own a copy of the game. But if they don't own a copy, then they can still participate in the Boss Rush mode via Download Play. There was also Amiibo compatibility shown off with the Boo Amiibo like revealing Boo locations and healing when talking to Toad.
Release Date: October 12, 2018 
Yokai Watch Blasters Red Cat Corps/White Dog Squad
Level-5
Take on some crazy action boss battles, along with a plethora of new bonuses coming in just a few days.
Release Date: Now (Moon Rabbit Crew Update: September 27)
And now to move onto…
Nintendo Switch
Luigi's Mansion 3 (Working title)
Nintendo
We just got a brand new announcement straight out the gate of this Direct! We didn't learn much more other than it's coming out next year, but what a start! It also appears to have a lot of the same assets from Luigi's Mansion: Dark Moon, with returning ghosts and features. More on this at a later date…
Release Date: 2019
Splatoon 2 Update
Nintendo
In a brand new update (version 4), we got plenty of announcements in an off-the-wall trailer. With 100x Battle for Turf Mode, new hand grenades, costumes, you name it! The trailer above is action packed! Head to SplatoonUS.tumblr.com for more details
Mega Man 11
Capcom
So we had a feeling this was still going to be in this Direct as the demo has been available for nearly a week, but it was nice to see a little more. Amiibo compatibility allows you to receive E Tanks and more items each day.
Release Date: October 2, 2018
Mario Tennis Aces Version 2
Nintendo
New characters were shown off today: Birdo, Shy Guy, Koopa Paratroopa, Petey Paranha, along with more until next June. A new mode called Co-op Challenge will let you compete in time-exclusive online challenges
Update Release Date: September 19, 2018
Capcom Beat 'Em Up Bundle
Capcom
This collection of classic arcades beat 'em ups includes: Final Fight, The King of Dragons, Captain Commando, Knights of the Realm and Warriors of Fate, as well as Armored Warriors and Battle Circuit (two games being released on console for the first time ever). You can even play these games online now!
Release Date: September 18, 2018.
New Super Mario Bros. U Deluxe
Nintendo
The classic Wii U game is making its way to the Nintendo Switch. The game also includes the DLC New Super Luigi U. With new playable characters like Nabbit who doesn't take damage from enemies and Toadette who can power up with the Super Crown to become Peachette who can double jump, float and floats back up if she falls into a pit.
Release Date: January 11, 2019
Katamari Damacy REROLL
BANDAI-NAMCO Entertainment
In this classic wacky game remastered in HD, roll as much stuff together as you can, forming a clump (or Katamari) that will shine on as a star in the sky. The Switch version also features gyro controls, HD Rumble and split-screen multi-player battles
Release Date: Winter 2018
Details on Nintendo Switch Online
In this Direct, here's what was shown off of the new Online Subscription: Online Play (granted); an ever-growing library of Nintendo Entertainment System games with the ability to play some local co-op and online; Cloud Saves; Smart Phone App finally adding more games, such as Super Mario Tennis Aces and more; Special offers (more to announce in the future). Along with this recap of announcements, Nintendo also announced some beautiful NES wireless controllers that charge by connecting them to a docked Switch like you would your Joy-Cons.
Begins: September 18, 2018 (NES Controllers same day for $59.99USD)
Pokemon Let's Go: Pikachu and Eevee
Nintendo
This was mainly a recap of everything in the games. Special abilities doing away with HMs makes it easier to traverse the world, as well as new moves exclusive to Pikachu and Eevee that were shown off in a previous trailer above.
Release Date: November 16, 2018
Diablo III: Eternal Collection
Blizzard
We got a bit of a reminder that Diablo 3 is coming to the Nintendo Switch. Along with reiterating on the game's functions that we won't go into here, They also showed off the Ganandorf costume in action, which looks amazing! There is also Amiibo functionality that allows you to summon a group of monsters that contain awesome loot.
Release Date: November 2, 2018
Super Mario party
Nintendo
https://www.youtube.com/watch?v=oAuNwjd4O-4
Again, not a new announcement, but just showing off what we know. But we did get to see some new content for this crazy party game. With a single-player modes called challenge mode that has you competing a series of mini games or compete against others online in mini game marathons.
Release Date: October 5, 2018
Town (Working Title)
Game Freak
With a brand new game from Game Freak (creators of Pokémon), this adorable RPG has you protecting a small village from dreadful monsters. There will be more on this title later.
Release Date: 2019
Cities: Skylines – Nintendo Switch Edition
Paradox Interactive
Build your own city with this expansive city simulator. Play as the new mayor to include quality of life, energize businesses and stimulate growth. Watch over every single citizen's movements and guide your town to become a thriving landscape. This version will also include all previous DLC, including: After Dark and Snowfall.
Release Date: Today
Daemon X Machina
Nintendo
Power an arsenal, collect weapons, equip them as you go or bring them back to the base to add to your armory. Daemon X Machina also includes up to 4-player online co-op to take down massive bosses.
Release Date: 2019
Yoshi's Crafted World
Nintendo
We finally got to see more from this adorable platformer, allowing you to flip the perspective of the stages as you traverse them. Each stage can also be flipped backwards and played in reverse – crazy! With local two-player co-op, play along with a friend or family member.
Release Date: Spring, 2019
And for some more titles shown off in the Direct…
Asmodee Digital Tabletop Gaming – Carcasonne; The Lord of the Rings: The Living Card Game; Pandemic; Catan; Munchkin; More…
Asmodee Digital
Asmodee are a leader in card and board games, and they are bringing many of their beloved games to the Nintendo Switch!
Release Date: Carcasonne (December 2018), The Lord of the Rings: Living Card Game (April 2019), Pandemic (March 2019), Catan & Munchkin (TBD)
Sid Meier's Civilization VI
2K
The massive RTS fan-favorite is coming to the Nintendo Switch, complete with four-player local co-op for LAN parties made easy!
Release Date: November 16, 2018
Starlink: Battle for Atlas
Ubisoft
https://www.youtube.com/watch?v=U7lhfdL0sdo
We got to see some new content showing off Fox and his friends' adventures in Starlink, along with a brief look at Wolf.
Release Date: October 16, 2018
The World Ends With You: Final Remix
Square-Enix
Just a little reminder that The World Ends With You: Final Remix is coming to the Switch…
Release Date: October 12, 2018
Xenoblade Chronicles 2: Torna ~ The Golden Country
Nintendo
Also another reminder for the new Xenoblade Chronicles 2 expansion
Release Date: September 21, 2018 (Available September 14 for all those who bought the expansion)
Warframe
Digital Extremes
Release Date: November 20, 2018
Just Dance 2019
Ubisoft
Release Date: October 23, 2018
Fifa 19
EA
https://www.youtube.com/watch?v=idsgsrHXjUM
Release Date: September 28, 2018
Team Sonic Racing
Sega
Release Date: Winter
NBA 2K18
2K
Release Date: Now
NBA Playgrounds 2
2K
Release Date: Fall, 2018
LEGO DC Super-Villains
Warner Bros. Interactive Entertainment
Release Date: October 16, 2018
Final Fantasy Crystal Chronicles Remastered Edition
Square-Enix
Now with Online play 15 years after its debut… This version also includes new areas within dungeons!
Release Date: 2019
Final Fantasy XV: Pocket Edition HD
Square-Enix
Release Date: Today
World of Final Fantasy Maxima
Square-Enix
Release Date: November 6, 2018
Chocobo's Mystery Dungeon EVERY BUDDY!
Square-Enix
(We're sorry that we were unable to find a trailer for this game but will update it when we do – we apologize for any inconvenience)
Release Date: Winter
Final Fantasy XII: The Zodiac Age
Square-Enix
https://www.youtube.com/watch?v=tSk8DO37axk
Release Date: 2019
Final Fantasy 7, 9, X/X-2 HD Remaster
Square-Enix
Release Date: 2019
Super Smash Bros. Ultimate Bundle
The rumors were true, with a beautifully specially designed dock featuring the original fighters for the game. The set also includes some sweet Super Smash Bros. themed Joy-Con controllers along with a full download copy of the game.
Release Date: November 2, 2018
Isabelle from Animal Crossing in Super Smash Bros. Ultimate
An interesting choice for Super Smash Bros., but one that we can certainly see. Isabelle joins the fight!
Welcome to Animal Crossing
Nintendo
A brand new Animal Crossing game has been confirmed for 2019! Nothing else was said, but it's nice to have confirmation.
Release Date: 2019
What was your favorite announcement from this Direct? Let us know in the Comments section below.
Also, be sure to like us on Facebook and follow us on Twitter @switchaboonews as well as Instagram @switchaboo. And hey now that you're up to speed with this Direct, why not check out the announcements from the latest Nindies Showcase?