Mineko's Night Market – Switch Review
"Just like cosying up on a bed with your Switch and your cat and a warm cuppa tea"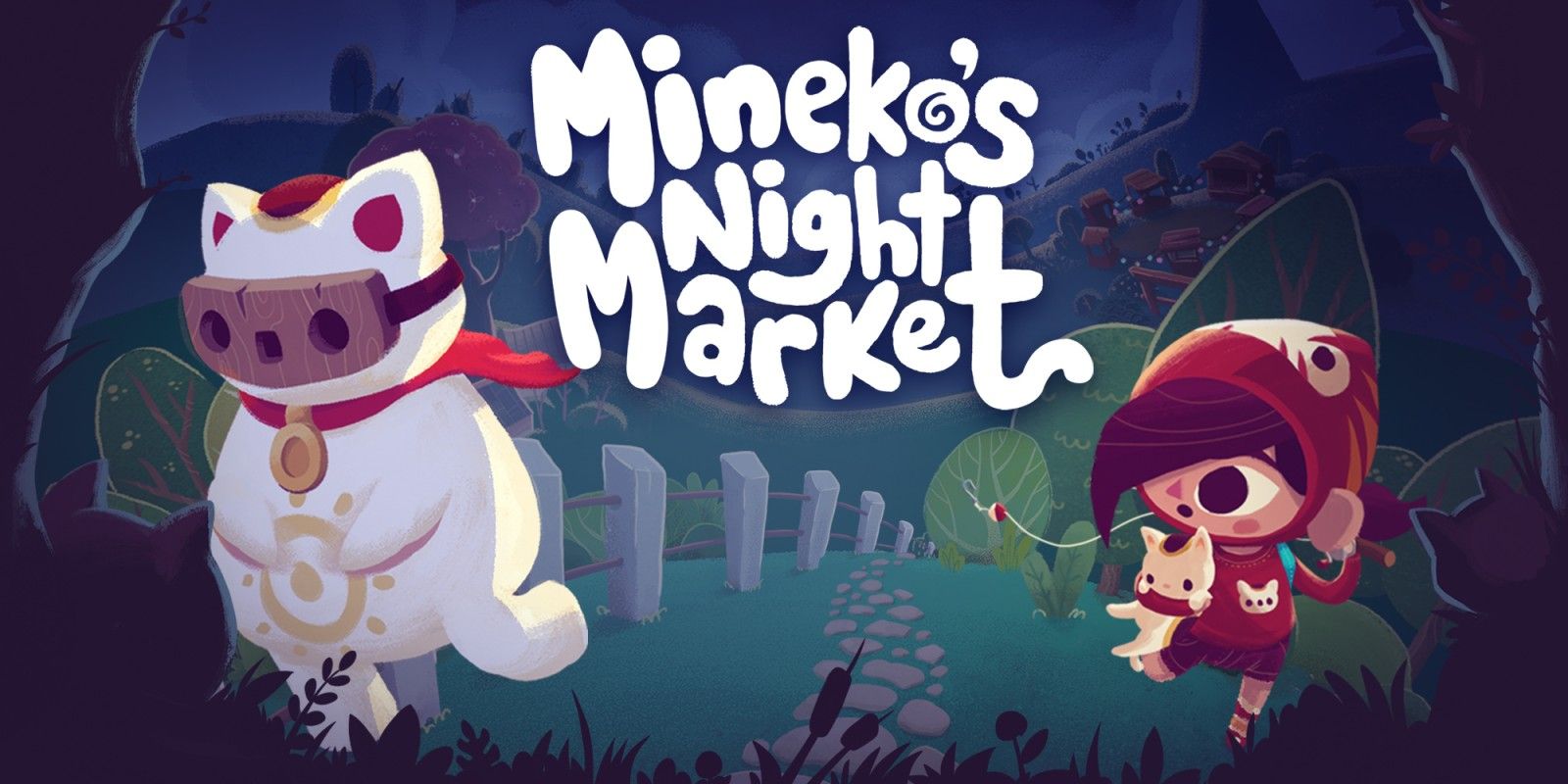 We're partnered with Skillshare, where you can do unlimited online courses that'll help you create art, make games, and even help you with school/university! Click here for a free 1 month trial.
In the words of indie developers Meowza Games and Humble Games, Mineko's Night Market is all about "crafting crafts, eating eats, and catting cats," and if that isn't some next-level copywriting, then I don't know what is! This sweetest and cosiest of cosy games dropped for the Nintendo Switch in late September 2023.
You play as cheeky Mineko, a young girl who's just moved to a rural village on the Japan-inspired Mount Fugu Island. The tiny town has seen better days and is now struggling somewhat because many residents have relocated elsewhere, like bigger cities, meaning that a few buildings are abandoned or a bit rundown. The weekly night market isn't quite what it used to be. But the good news is that more and more locals have spotted the mysterious cat Nikko on the island. Once thought to be just a fictional creature from a picturebook, Nikko's story is that long, long ago, the Sun Cat blessed a local farming family with abundant yields – only to be driven away by a jealous neighbour. What does he have to do with all the suited Agents kidnapping cats and blocking off areas on the island?
In Mineko's Night Market, you'll help our budding entrepreneur run her very own stall at the night market. Collect collectibles, upgrade upgradables, craft crafts, and sell sells, all while rescuing kitties, restoring the village and whole island to their former prosperity and freedom, and figuring out the secrets surrounding Nikko. Recommended for fans of cosy and wholesome games. And lovers of feline friends.
The Good
If you like cutesy stuff, then you'll likely love Mineko's Night Market. Everything is adorably sweet, charming, lovely, cosy, etc.: the illustrations, the settings, the characters, the dialogue, the narrative, the crafts, the mini games, the relaxing music. The 2D visuals sort of remind me of Venba, the last game I reviewed for Switchaboo, and they look like something out of a picturebook. Mineko's essence is just like cosying up on a bed with your Switch and your cat and a warm cuppa tea (which is what I did).
As in Harvest Moonesque games, the year is broken up into four 30-day seasons. And the gameplay "brims with enchanting elements to ensure you're delightfully entertained, keeping monotony far, far away," according to ChatGPT when I asked it to make that boring sentence a little cuter! Like in a lot of these sorts of games, you discover crafting recipes (e.g., by helping residents with requests) to make new stuff, gather the required items, make the stuff, purchase new craftbenches, and feel satisfaction at all the different things you can upgrade, renovate, and unlock! There are tonnes of crafting tables and cutesy crafts to be crafted.
Meanwhile, Mineko almost single-handedly revives the entire island (but with the help of friend Bobo). Bit by bit, our young hero liberates restricted places from the corrupt Agents, rescues cats and protects Nikko, draws vendors and crowds to the night market she has freshly enlivened, persuades random characters to call the town home, and revitalises the village's four museums by donating flowers, night market foods, fish, etc. The fabled night market itself? Gorgeous. Love it. The colours, the stalls; everything.
Mineko's Night Market is a heartwarming choice if you don't want to think too much or be stressed out at a video game and just want to relax with a sweet, funny, cute, and repetitive cosy game. The routine will bother some people, but, personally, I thought it didn't get tedious. There are eight different languages to choose from, too.
TL;DR
Cute, sweet, lovely, cosy, etc. everything
Lots of stuff to craft and sell
Satisfying/relaxing cosy game; save the island
Cats!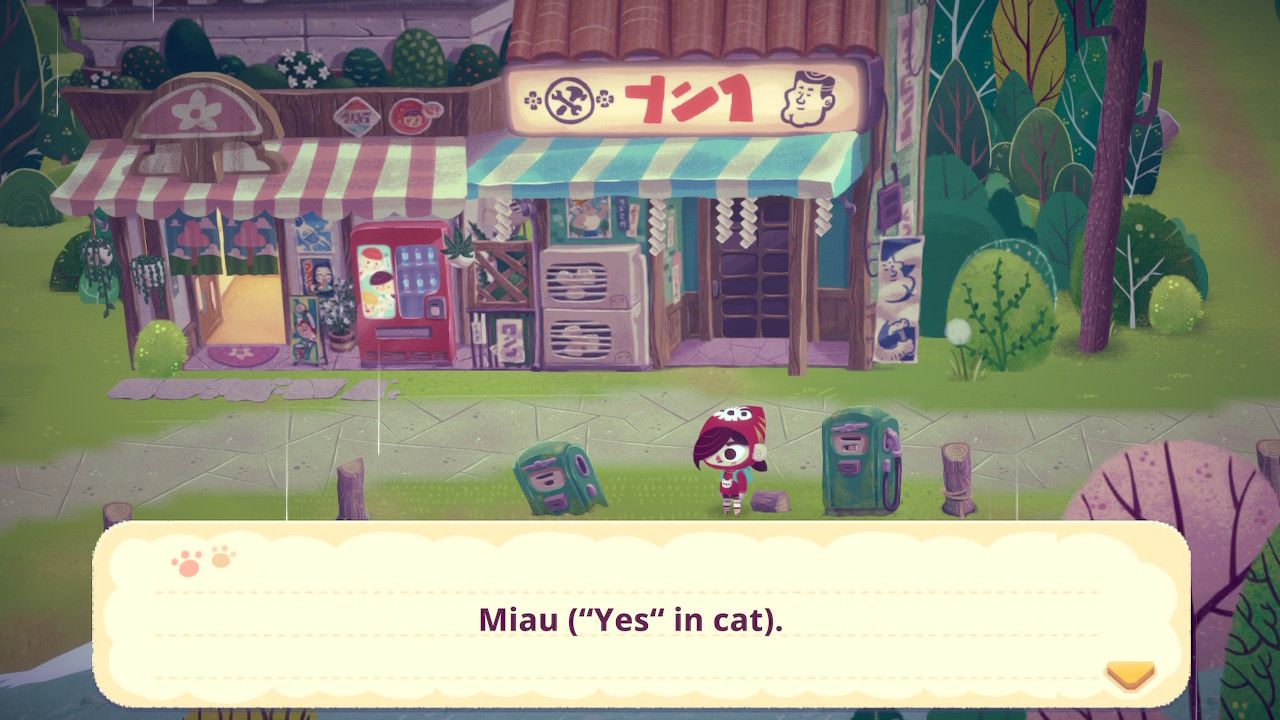 The Bad
I thought Mineko's Night Market was swell, so the bad stuff is mostly technical in nature. Really, these things didn't bother me that much, but there's a Bad section for a reason. Playing on the Switch, you'll notice the game – the music, the animation – struggles and stalls during loading screens. The developers posted on Instagram that they're aware of these issues on the console. This lagginess popped up elsewhere too, such as after sewing and when trying to continue from the start screen.
Along with that, I occasionally picked up on errors with the user interface – that typically fixed themselves later. For example, the headings for the bagged items were sometimes incorrect. And two different UI screens overlapped at one point.
Just little things that could've made it tad smoother. For example, you can't sort your inventory. When you sell an item, it only gives you the option to sell either one or ALL of them. It also only lets you sell one type of item at a time. And, yeah, they could've made it possible to exit the UI by pressing the B button?
I've brought this up in other reviews, but there is no way to save the game yourself. It saves automatically when Mineko goes to sleep. It would have been better if you could save during the day. Lastly, the game may or may not bring about some cute aggression.
TL;DR
Loading screen stalls
UI was buggy at times
No save option

Final Score: 9/10
Although super sweet, I can understand that Mineko's Night Market is not everyone's cuppa tea. But it's definitely worth it for people like me who play cosy games to unwind, because they look cutesy, and because these titles don't take themselves too seriously. This poorly written review also hasn't taken itself too seriously. Me personally, I just want to grind this game into a fine powder and inhale it… Not through a nostril but by first stirring the sugar into a warm, cosy, delicious beverage that it'll only make warmer and cosier and deliciousier. The end.
Thank you for checking out our Mineko's Night Market Switch review, thank you to Humble Games (via Forty Seven PR) for providing the review code and thank you to our Patreon Backers for their ongoing support:
Bel Cubitt
Jack Caven
RedHero