Masahiro Sakurai: Sora Ltd. (Part 2)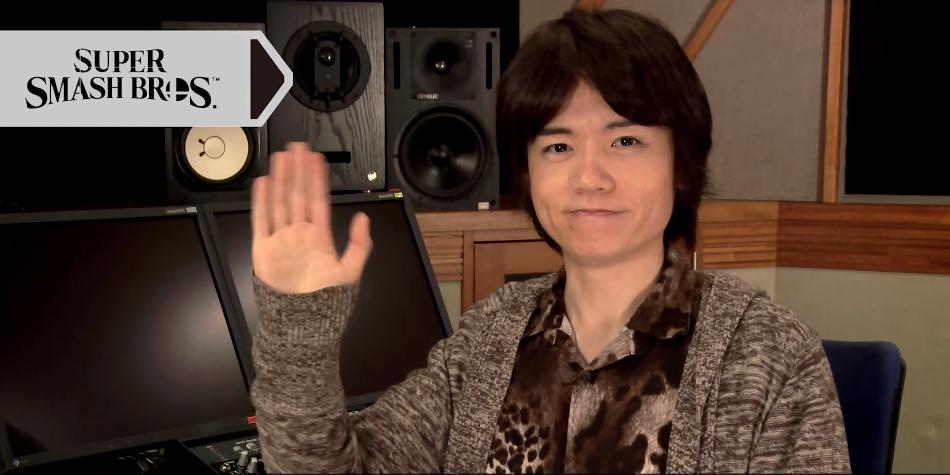 We're partnered with Skillshare, where you can do unlimited online courses that'll help you create art, make games, and even help you with school/university! Click here for a free 1 month trial.
This article on Masahiro Sakurai is part 2 of two articles. Click here to read part 1.
Masahiro Sakurai had a very successful career at HAL Laboratory, creating both Kirby and Super Smash Bros.. However in 2003, he felt as though his time at the company had come to an end and he was ready to start the next stage of his life.
Sora Ltd.
After resigning from HAL Laboratory in August 2003, it wasn't until September 30, 2005 that Masahiro Sakurai created Sora Ltd., a video game agency that allowed Sakurai to work as a freelancer for different game developing and publishing companies. However between his departure from HAL and the creation of Sora Ltd., Sakurai was credited as a Special advisor for the Game Boy Advance's Kirby & the Amazing Mirror that saw a 2004 release, and Meteos for the Nintendo DS as Designer on March 10, 2005 in Japan and mobile phones in 2006.
Masahiro Sakurai attended E3 2005 with the intention of learning all there was to know about the latest hardware. As a freelance game developer with no staff working for him, he wanted to use E3 as an opportunity to find out what project he wanted to work on next. However at this time, Nintendo were ready to unveil the Nintendo Wii (still referred to under the codename "Revolution" at the time). This new home console was the first Nintendo console to have Wi-Fi capabilities and Satoru Iwata (now president of Nintendo) wished to gauge what game people most wanted to play online. From the polls, an overwhelming number came back in support of a brand new Super Smash Bros. title, to which Iwata and HAL Laboratory still had not yet discussed. Iwata went on to announce that he wished for a new Super Smash bros. game to release on Nintendo's latest console with online gameplay, however many took this as an official announcement and proceeded to ask Sakurai as to whether he would be involved. Sakurai was dumbfounded as he knew as much as they did, and didn't know what to say. This was until Iwata had invited him to privately discuss the matter in his hotel room. Iwata confided in Sakurai as to what he wanted to see from the newest instalment and could only hope that Sakurai accepted the offer. If Sakurai was to decline, then Iwata's backup plan was to take Super Smash Bros. Melee and make it Wifi compatible for the Wii. According to Iwata in an Iwata Asks interview, he had jested that this alternative was used as a threat, to which Sakurai playfully agreed. Sakurai had already received multiple job requests at E3 2005, and was torn between them and the proposition that Iwata had given him. Sakurai eventually accepted the role, stating:
"In the end though, I decided there were no other jobs with the potential to make people as happy as the Smash Bros. project would. After all, it was already clear that lots of people were looking forward to it. So, I decided to accept the project. Or, accepted that I had no choice but to take it."
– Masahiro Sakurai
Having been announced out of the blue, and with Sakurai working as a freelance game developer at the time, he had no space to work on such a big project. The initial plan was to develop the game at Nintendo's headquarters in Kyoto, yet ultimately decided to rent an office space in Takadanobaba, Tokyo. With no staff initially assigned to the task, Shigeru Miyamoto introduced Sakurai to Game Arts, a company who had just finished development of Grandia III and had some staff free to work on a new project. This team were in charge of the groundwork for Super Smash Bros. Brawl, whilst Iwata and Sakurai continued to look for new staff specifically for the development of Super Smash Bros. Brawl. Despite such an unorthodox development process, in the end Sakurai felt that it gave him the opportunity to form new connections with many other developers within the industry, something he wouldn't have been able to do if he had continued working at HAL working endlessly on the same series alongside the same people.
For the first time in the series, two characters were introduced that were not from the Nintendo universe: Snake and Sonic The Hedgehog. In fact, both of these characters were considered for Super Smash Bros. Melee on the Nintendo GameCube, but didn't make the cut. Metal Gear creator Hideo Kojima was good friends with Masahiro Sakurai and often played Super Smash Bros. with his son, who asked his father why his character wasn't featured alongside the Nintendo roster. Kojima then rang Sakurai and "practically begged" him to include his character in the next instalment on the GameCube, however the game was too far into development to do so.
In an Edge Magazine interview with Sonic The Hedgehog creator Yuji Naka, it was revealed that Sonic The Hedgehog was also not included in Super Smash Bros. Melee due to time restrictions. However the seeds had been planted, and Snake and Sonic were the first third-party characters to be considered for Super Smash Bros. Brawl. Despite Nintendo having internal discussions as to where to draw the line on including third-party characters to the roster, they had faith in Sakurai's ability to create a game that was fun and inclusive for everyone.
Super Smash Bros. Brawl finally saw its release in Japan on January 31, 2008; in North America on March 9, 2008; and in Australia and Europe on June 26/27, 2008. The game was very well received by fans and critics alike, receiving a metacritic score of 93/100 and a perfect 40/40 from Famitsu. In the United States, Super Smash Bros. Brawl went on to be Nintendo of America's fastest selling game at the time, selling 1.4 million copies within its first week. As of March 30, 2018, Super Smash Bros. Brawl is the eighth best selling Wii game, selling 13.27 million copies.
Kid Icarus: Uprising
After the success of Super Smash Bros. Brawl in July 2008, Satoru Iwata and Masahiro Sakurai both went out to dinner. Iwata had a lot of faith in Sakurai's talents and proceeded to tell him that Nintendo were working on a new portable system even before most employees at Nintendo knew. In fact, Sakurai was the first to learn of the new system outside of Nintendo. After Iwata had asked Sakurai for his thoughts on the new system, he wanted him to be one of the first developers to create a brand new game for it.
Without any specifics as to genre, Sakurai gave his new project a lot of thought on his way home. He wanted to create something unique as he didn't think Iwata told him about the system so early just so he can make another port or something small. Sakurai ultimately decided on the third-person shooter genre, as he felt as though it would be a good challenge due to its unpopularity in Japan. Despite having no story or franchise direction, it only took Sakurai three months to have the basic gameplay mapped out and approved by Nintendo. Sakurai was unsure whether he should be making a game from an already existing Nintendo property, to which Iwata urged him to focus on gameplay first and foremost. Kid Icarus wasn't the first Nintendo franchise to be considered, with Star Fox initially coming to mind. However, Star Fox didn't seem to fit into Sakurai's gameplay design and chose to go in a different direction. Sakurai eventually chose Kid Icarus as the series still had a strong following in the west despite not having a title released since 1991 on the Game Boy: Kid Icarus: Of Myths and Monsters.
Unfortunately, Sora Ltd. had no development team as all of the staff hired for Super Smash Bros. Brawl had been temporarily contracted from Nintendo, Game Arts and other development companies. By November 2008, Sakurai had rented out another office in Takadanobaba, Tokyo with just a handful of workers and had begun working on the game. As the game was being made years before the release of the Nintendo 3DS system, there were no development tools readily available. Therefore, Sakurai and his team were originally forced to develop the game for PC, and even some sections for the Wii. In March 2009, development had begun to ramp up, and Sakurai had begun hiring concept artists and constructing the story elements.
Kid Icarus: Uprising was the first Nintendo 3DS game announced and was shown off at E3 2010. The announcement was met with positivity and praise for the Nintendo 3DS hardware. Kid Icarus: Uprising went on to release just a few days after the system released in February 2011 in Japan and March 2011 throughout North America, Europe and Australia. The game was a critical success, with a metacritic score of 83 and another perfect 40/40 from Famitsu.
Michiko Sakurai
In 1997, a young Michiko Takahashi graduated from Musashino Art University. Soon after, she was hired by HAL Laboratory and had immediately begun working on menu themes and layouts for many of HAL's games. Her first project was Kirby Star Stacker for the Game Boy, to which she was featured in the credits as having worked on 'Design'.
Michiko's next project was to work on the character selection and main menu for Super Smash Bros., as well as the art for a few stages, such as: Dreamland, Sector Z and Mushroom Kingdom. Since working on Super Smash Bros., Michiko only worked on games that Masahiro Sakurai had been involved with. When Masahiro Sakurai left HAL Laboratory to form Sora Ltd., so too did Michiko in order to continue working on the games that Sakurai created. She is credited as having worked on the menu and UI for every game created by Sora Ltd..
With the release of Kid Icarus: Uprising in 2012, Michiko's name was listed as "Michiko Sakurai" for the first time. Having been previously credited as "Michiko Takahashi" in every game prior to Kid Icarus: Uprising, it can therefore be determined that Michiko and Masahiro Sakurai married sometime between the release of Super Smash Bros. Brawl in 2008 and Kid Icarus: Uprising in 2012.
More Super Smash Bros.!
At E3 2011, Satoru Iwata took to the stage and announced that Masahiro Sakurai wished to develop a brand new Super Smash Bros. title for both the Wii U and the Nintendo 3DS. However, development didn't begin on the new title until development had been finalised with Kid Icarus: Uprising in 2012.
The fourth installment to the series was developed with the help of Bandai Namco, and was officially announced at E3 2013. Despite Super Smash Bros. Brawl featuring a single-player campaign known as Subspace Emissary that featured high quality cutscenes, Sakurai chose not to include a campaign in this version due to players who owned the game posting videos online.
"Unfortunately, the movie scenes we worked hard to create were uploaded onto the internet. You can only truly wow a player the first time he sees [a cutscene]. I felt if players saw the cutscenes outside of the game, they would no longer serve as rewards for playing the game, so I've decided against having them."
– Masahiro Sakurai
Instead, Sakurai opted to make these cutscenes act as character introductions, announcing new characters and releasing them as trailers for the game. Super Smash Bros. for Nintendo 3DS/Wii U received a lot more third-party characters this time around, with the inclusion of characters such as Mega Man, Pac-Man and the reappearance of Sonic.
On the final day of E3 2013, Sakurai was interviewed by Kotaku on the second floor of a booth that Nintendo had set up. With the fourth instalment on the horizon, more and more characters were seeming to make their way into the series. In the interview, Sakurai touched upon the process of choosing characters to include. He stated that there have been many instances where they had wanted to include a character, but they were unable due to their moveset not being a good fit or the character having too much overlap with other characters in the roster. The Kotaku interview went on to ask about the inclusion of Mega Man and whether there would be more third-party characters included in the future. He responded:
"There won't be a trend of adding a lot of third-party characters. You can sort of think of Mega Man as being the special case."
– Masahiro Sakurai
Ironically, seven third party character have been added to the series' roster after the statement.
Masahiro Sakurai's grueling work ethic continued to affect his health when developing the Nintendo 3DS/Wii U iterations of Super Smash Bros.. With his long hours causing him to develop calcific tendinitis in his right shoulder, he was forced to use a trackball instead of a regular mouse as it caused him too much pain.
However, Sakurai's declining health didn't diminish his determination to complete Super Smash Bros. for Wii U and Nintendo 3DS. He continued with development until its release and immediately moved onto making DLC for them. The first portable version of Super Smash Bros. was a major success, releasing September 13, 2014 in Japan and early October for the rest of the world. The title was the eighth best selling game on the Nintendo 3DS, having sold 9.3 million copies as of June 30, 2018.
Despite the Wii U being an unsuccessful console, Super Smash Bros. for Wii U still had an impressive attach rate. The game released late November, 2014 in North America, Europe and Australia and early December in Japan. It was the fourth best selling game for the Wii U, having sold 5.34 million copies.
After the release of both titles, Masahiro Sakurai held a fighter ballot on the Nintendo website in order to gauge which characters the fans wanted. Bayonetta from Platinum Games' Bayonetta series was the first third-party DLC character to come from this, being the number one choice in Europe. Not long after, Cloud from Square Enix's Final Fantasy 7 was announced, which was a surprise to fans as the game had never seen a release on a Nintendo console prior.
As Sakurai was working on the DLC in 2015, he had already set his sights on the next instalment for the Nintendo Switch. Fans and critics constantly debated whether the next Super Smash Bros. game would be a port of the Wii U version, or a whole new game. This speculation came from past titles having long gaps in between releases, as well as the Switch having a considerable amount of Wii U ports. However, it was announced that Sakurai, along with the same team from Bandai Namco would be working on the Switch iteration, preventing Sakurai from needing to build a whole new team and therefore speeding up the development process.
Titled Super Smash Bros. Ultimate, Sakurai wished to include every character from every previous game in the series, along with all of their accompanying stages and music. When Sakurai expressed this desire to his team, he was met with dead silence. The team was well aware of Sakurai's ambitious working nature, but this was on a whole new level. Yet despite his newly founded ambition, Sakurai was doing less hours, only working 50 hours a week, made up of five ten-hour days; whilst this may still sound intense, it is considerably less gruelling than Super Smash Bros. Melee's 13-month development process where he had only taken a few days off.
After the release of Super Smash Bros. Melee, each iteration had been an attempt to make the games more accessible to casual audiences. However in Super Smash Bros. Ultimate, Sakurai has admitted to have increased the tempo of the game's flow. Despite the increase in tempo, he continues to think of the inclusive nature of the game. Sakurai's decision to add slowdown penalties for players who repeatedly use dodge rolls stemmed from him wanting to make sure that players weren't being passive. He also had the fear that players would pick fast characters and run down the clock in Time Mode.
Masahiro Sakurai continues to work on the Super Smash Bros. series to this day, with the release of Super Smash Bros. Ultimate just over a month away. In the Direct that was held on November 1, 2018, the 75th character was announced, with confirmation that there will be five additional characters released as DLC between the game's release on December 7, 2018 and February 2020. If there's anything that can be said about Masahiro Sakurai, it is that he is certainly a hard worker. But…
Are you a fan of Masahiro Sakurai? Have you learned anything new from our articles? Let us know in the Comments section below.
Be sure to like us on Facebook in order to get updated with every article we post, along with more Nintendo content. And hey if you enjoyed this article, why not check out our article on Satoshi Tajiri: the man behind Pokémon?
Source 1 Source 1 Source 2 Source 3 Source 4 Source 5 Source 6 Source 7 Source 8 Source 9 Source 10 Source 11 Source 12 Source 13 Source 14 Source 15 Source 16 Source 17 Source 18 Source 19 Source 20 Source 21 Source 22 Source 23 Source 24 Source 25 Source 26 Source 27 Source 28