Leisure Suit Larry: Wet Dreams Don't Dry - Switch Review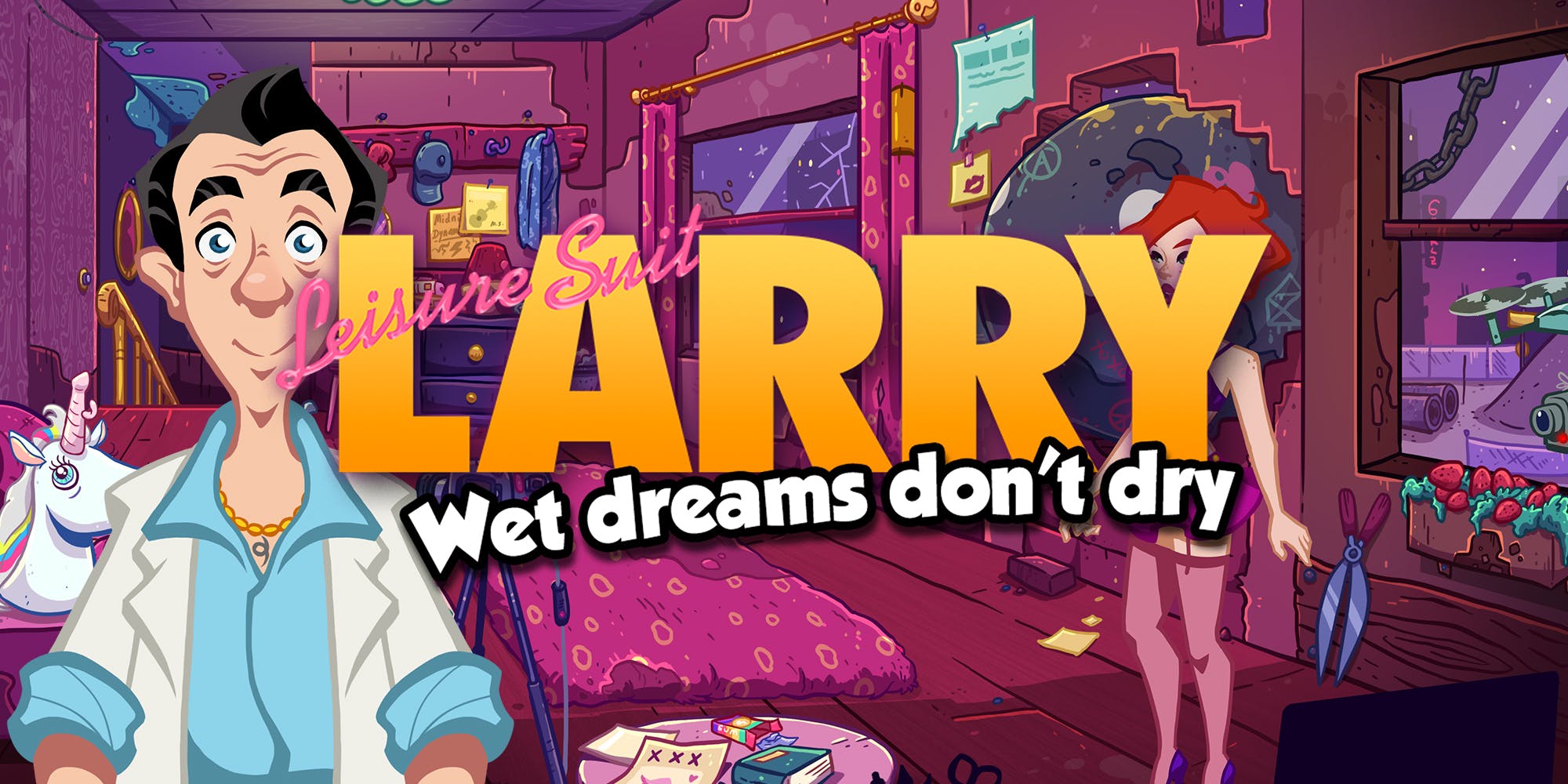 We're partnered with Skillshare, where you can do unlimited online courses that'll help you create art, make games, and even help you with school/university! Click here for a free 1 month trial.
Leisure Suit Larry: Wet Dreams Don't Dry is the latest in the NSFW Leisure Suit Larry series which debuted in 1987 with Leisure Suit Larry in the Land of the Lounge Lizards. It follows the nerdy Larry Laffer, who is constantly trying to get women into bed and often fails miserably. Set in New Lost Wages, help Larry navigate through this new and confusing world where times change but Larry doesn't.
Gameplay
While Leisure Suit Larry is ultimately an enjoyable game, there are a few aspects of the gameplay that are frustrating to say the least. As a point and click adventure, you will of course be obtaining items, which is a given for the genre. Whilst the variety of items is nice, with no way to filter or organise them, you will often feel overwhelmed by the sheer amount that you collect. This can leave you confused and slightly annoyed, especially when you are at a loss of what to do next and you have too many options to work with.

The gameplay itself runs well. However, we encountered some technical issues selecting highlighted objects that were close to others, sometimes almost feeling like you're required to select it with the touch screen whilst using the other hand to select the A button in order to interact with it. This became infuriating at times when you had to try over and over again for something that should ultimately be made to feel seamless and intuitive.

Don't forget to like us on Facebook and follow us on Twitter for more Nintendo Switch content. Also, please consider supporting us on Patreon so that we can continue to do what we love doing.
As this is the Switch version we are talking about, HD Rumble has been used in areas of the game when more erotic happenings are going on. It is used to enhance these points by mimicking the feeling of a heartbeat or just general rumbling that gets more and more intense as the story does. This has been used to great effect, with it blending in seamlessly with the story to make the HD Rumble seem as though it was always meant to be there.
Story
In this instalment in the life of Larry Laffer, we do the usual as we help Larry in his quest for love – a classic story. This time however, we are taken into the future where Larry has somehow traveled from the 80s to the 21st century – to a time where people are ruled by their PiPhones, Instacrap and Timber. These clear jabs at modern life acts as fantastic tongue-in-cheek humour, coming across as something we can all relate to – we all have that one friend who is obsessed with Instacrap and wanting to live that 'influencer' lifestyle.

Along the way, you are introduced to a variety of fun and quirky characters, from your trusty bartender Lefty to your friendly neighborhood Instacrap influencer Becky. While every single character you meet will help you along the way to reaching your goals, they do so in their own interesting ways, which helps to make Leisure Suit Larry: Wet Dreams Don't Dry contain a charming cast.

The Instacrap photos that you collect along the way are a fun little addition to the story; these little cut scenes are a quirky way to see what mishaps befall Larry as he navigates the world. They are useful in two key ways: firstly, to see how far through the game you are, and secondly, to use them as a checkpoint to see when you've finished an objective. Be prepared though, as many of these stories are NSFW.

Before you can even begin to sink your teeth into Leisure Suit Larry, be prepared for a pop quiz! No, not the dreaded kind your high school teacher would randomly spring on you when you least expect it; this one you could actually know the answers to! Well, only if you are older than 18… and even in saying that, as someone who is in their mid-20s, I still ran into issues with some of the questions, as they would either be quite niche or regional. While the game ran relatively smooth, it did crash at one point before I had a chance to save, forcing me to start all over again and redo the damn quiz! Therefore whilst the quiz was implemented to be charming and witty, it simply came across as an annoyance.

Graphics / Art Direction
Leisure Suit Larry: Wet Dreams Don't Dry is a charmingly appealing game. The colours are vivid and used to great effect to enhance the world around Larry. The animation style of the game is simple yet effective, with the 3D layering adding much to the foreground/background, making the contents of the world something to stop and marvel at. Leisure Suit Larry also runs consistently smooth, which reinforces that quality animation presentation.

At times, Leisure Suit Larry can pay homage to where it all began, with creative adjustments to the presentation that you may not see coming. This works particularly well as a change of pace; the change in art style makes it stand out in the memory of anyone who has played the previous entries as it is such a stark contrast to the rest of the game.
Music / Sound Design
The jazz/blues soundtrack for Leisure Suit Larry is the perfect accompaniment to the game. It makes you feel like you are downtown in the city, cruising along and enjoying life with its smooth rhythm and beat. The tracks change as you progress from one area to the next, but not as much as I would have liked it to, leading to some repetitive moments during long play sessions.

One of the standout features of the game is that it has a full voice over cast. Almost every single line has a voice actor reading it out which I loved, making it a much more enjoyable experience being able to hear what these characters sound like.
Final Score: 76%
Leisure Suit Larry: Wet Dreams Don't Dry is a fun game to pick up if you have some time to kill and are looking for a comedic world to delve into. Aspects of the game, such as the witty tounge-in-cheek humour, along with full voice acting and the smooth soundtrack, help to elevate this game from some of the more mediocre games of the genre. However, the overcrowded inventory system and general quality of life aspects could have been improved on in order to make this entry in the Leisure Suit Larry series shine just a little brighter.

P.S. Another thing to be aware of going into Leisure Suit Larry: Wet Dreams Don't Dry is that it is a game full of sexual innuendo, provocative language and suggestive subtext. You will see many things that you can't unsee, so be warned!