Kickstarter Project of the Week: Steamdolls - Order of Chaos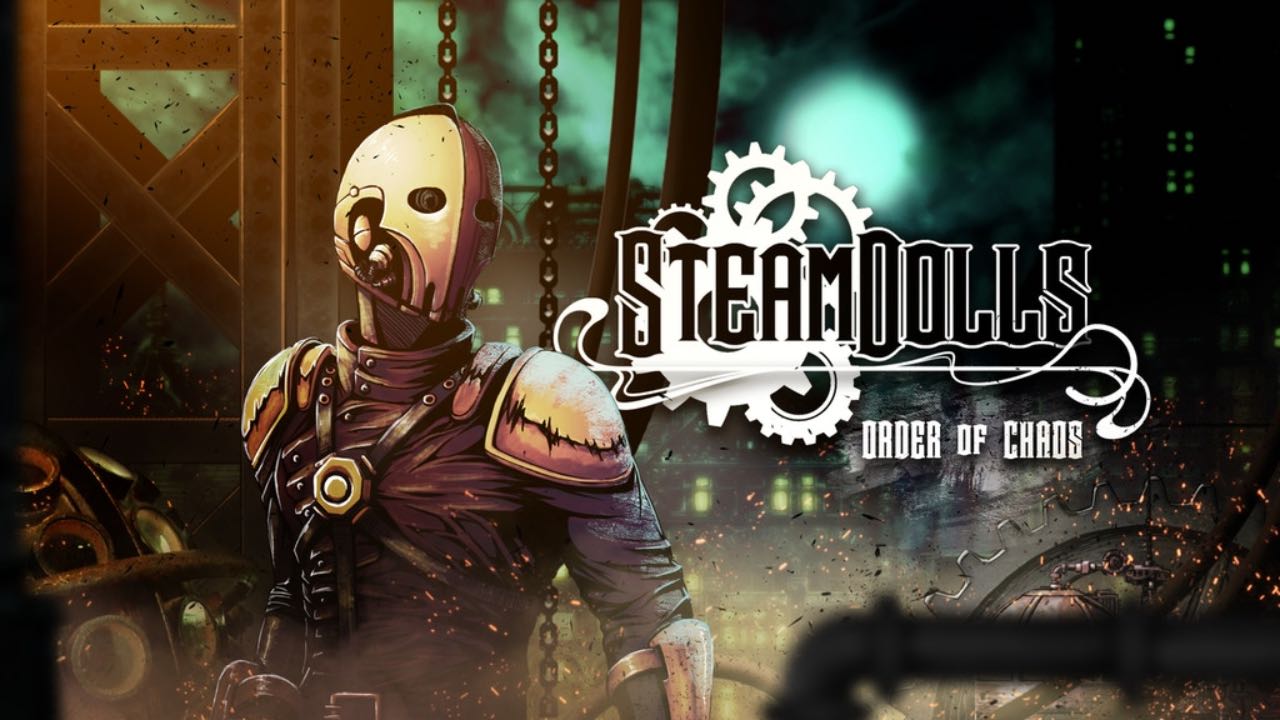 We're partnered with Skillshare, where you can do unlimited online courses that'll help you create art, make games, and even help you with school/university! Click here for a free 1 month trial.
For this week's Switch Kickstarter Project of the Week, we will be looking at The Shady Gentlemen and Top Hat Studio's Steamdolls – Order of Chaos. The game is slated to release in May 2021 on PC, Mac, Linux, Nintendo Switch, PS4/PS5 and Xbox One/Xbox Series X.
Here's the overview:
SteamDolls is a steampunk inspired metroidvania game with a grimy touch of brutality.

You are The Whisper – voiced by David Hayter (The Legendary Solid Snake).

Blast your way to your objective or stick to the shadows and perform violent assassinationson unsuspecting guards, as you struggle with the haunting apparitions of a mesmerizing witch trying to reveal the truth about a conspiracy that could shake the very foundation of the world.

ACTION, EXPLORATION, STEALTH, AND BLOOD.

Inspired by games like Castlevania and Hollow knight. Nourished by the fury of Dead Cellsand the gloom of Bloodborne. A touch of societal decay from Dishonored. Lose yourself in a labyrinthine city, full of secrets and madness.

Story

Society crumbled over time, falling into a state of disarray. Innovation became stagnation. Progression to regression. Not future, nor past. An industrial era haunted by the ghost of what came before. Mankind, their mentality ever worsening as idle habits fed into the City. Unified and tortuous, it swallowed what remained of their humanity. Stealing away their free will, their determination. Crushing their souls until nothing remained. Madness.

Desperate for an alternative way to regain the glory of Old, scientists searched for a remedy.

Until they found something. Something that should have been left alone.

Mindless citizens, the needed catalyst. Transforming them. Adapting their flesh. Mere dolls. Cruel monsters.

Discover the truth of these broken lives in the lore of Steamdolls : Order of Chaos.

In Steamdolls, you assume the role of a cunning thief and anarchist known as "The Whisper" and make your way through heavily secured environments. (Dubbed by Mr. David Hayter).
Features
2D brutal fast paced metroidvania in a steampunk universe.
Gruesome stealth kills.
A sprawling city to explore with Hostile, Infected and Safe Zones.
Meet NPC with their own tragic story.
Carefully crafted interactive map.
David Hayter (Solid Snake) is the voice of The Whisper.
Hand-drawn Cutscenes for the narrative parts.
Huge abominations will try to take you down.
It's not very often that you first glance at a game and instantly realise that you are looking at an absolutely masterpiece. That was my first reaction with Steamdolls – Order of Chaos as I looked upon the game's stunning and unique neo-steampunk setting. One commendable aspect is Steamdolls has to be its immaculate lighting effects that gives its world a sense of eeriness. Not only that, but the original voice actor for Metal Gear Solid's Solid Snake David Hayter will also be voicing the protagonist, which is all kind of amazing. Steamdolls – Order of Chaos is a game on my, and hopefully many more's, radar.
Steamdolls – Order of Chaos required £30,000 and it is currently sitting at £48,190 after 696 backers with 25 days remaining. Considering that this project has already reached its initial goal, we then look toward its Stretch Goals. The next goal is aiming for £52,000 with more Metal Gear Solid voice talent. If you'd like to support the development of this game to help it come to Nintendo Switch, click the link below to visit the Kickstarter page.
Thank you to our $5 and up Patreon Backers for their ongoing support: