Kickstarter Project of the Week: Tapeworm: Disco Puzzle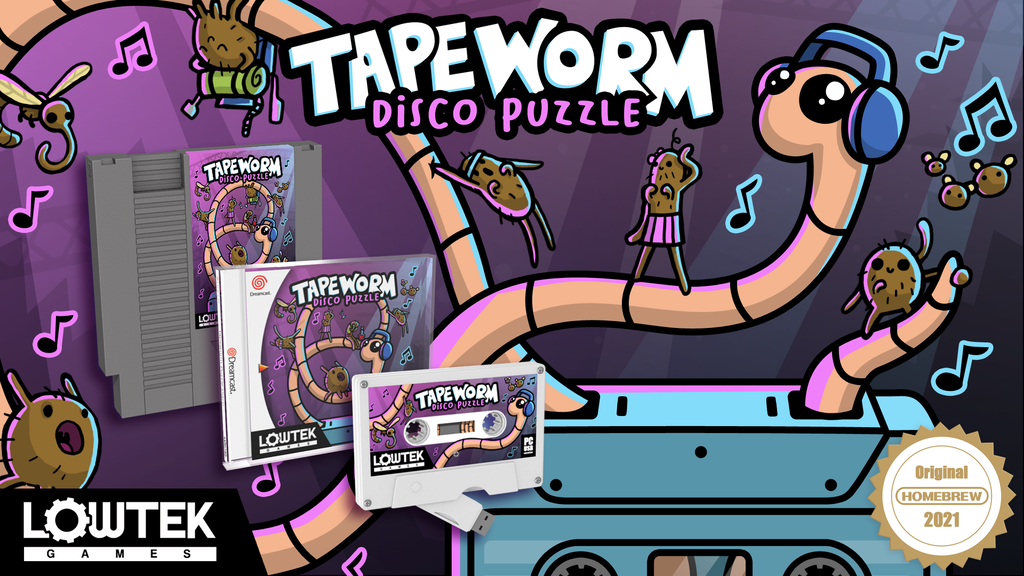 We're partnered with Skillshare, where you can do unlimited online courses that'll help you create art, make games, and even help you with school/university! Click here for a free 1 month trial.
For this week's Switch Kickstarter Project of the Week, we will be looking at Alastair Low's Tapeworm: Disco Puzzle. The game is slated to release in August 2021 on NES, Sega Dreamcast and PC, with Playdate and Nintendo Switch ports as a stretch goals.
Here's the overview:
Play as Tapeworm (A worm inside a cassette tape) . You own a number of Night clubs  and its your job to make sure the fleas say safe and have a good time. Some familiar themes and story from Flea will weave its way through the game, expanding the flea universe with even more puns.

The game play is a mix between "Snake" , "Anteater" and "Lolo".

The worm has a certain length and the player must choose their moves wisely. They can reel in the worm to explore different paths.

Each level has an objective shown at the top right.

This can range from:
Avoid enemies
Don't kill the fleas
Collect all the notes
Help the fleas collect the blood
Open doors with pressure switches
Help Fleada get to the gig on time (Fleada is a cat walk model)
The concept came around when brainstorming ideas to utilize the crank on the Playdate. I liked the idea of having to reel the tapeworm back in using the crank. Playdate has been delayed and we decided to test out the idea on the NES in the meantime and think it works well.
The simplicity of most NES games were largely part of their charm. Tapeworm looks to take all of the inspiration from late 80s console gaming and pull it into the 2020s. Hosting six different game modes, Tapeworm provides its own unique ideas whilst still drawing on the nostalgic value that comes from the games many grew up with. After playing the demo, its charm and quick-tempo music immediately gets you in the groove. It's a simple game but it works so well. And it's also coming out on the Sega Dreamcast... what?!
This game required £6,000 and it is currently sitting at £8,843 after 158 backers with 25 days remaining. However, this is only to get it on PC, NES and Dreamcast; to get Tapeworm on Nintendo Switch, it needs to hit a goal of £20,000 and £25,000 for an HD version. If you'd like to support the development of this game to help it come to Nintendo Switch, click the link below to visit the Indiegogo page.
Click here to check out Tapeworm: Disco Puzzle
Click here to check out the last Kickstarter Project: Sea of Choices
Thank you to our $5 and up Patreon Backers for their ongoing support:
Belinda Cubitt
Jon Crispe
Matthew Sandstrom