Kickstarter Project of the Week: Crackinho - Beat'em up in the World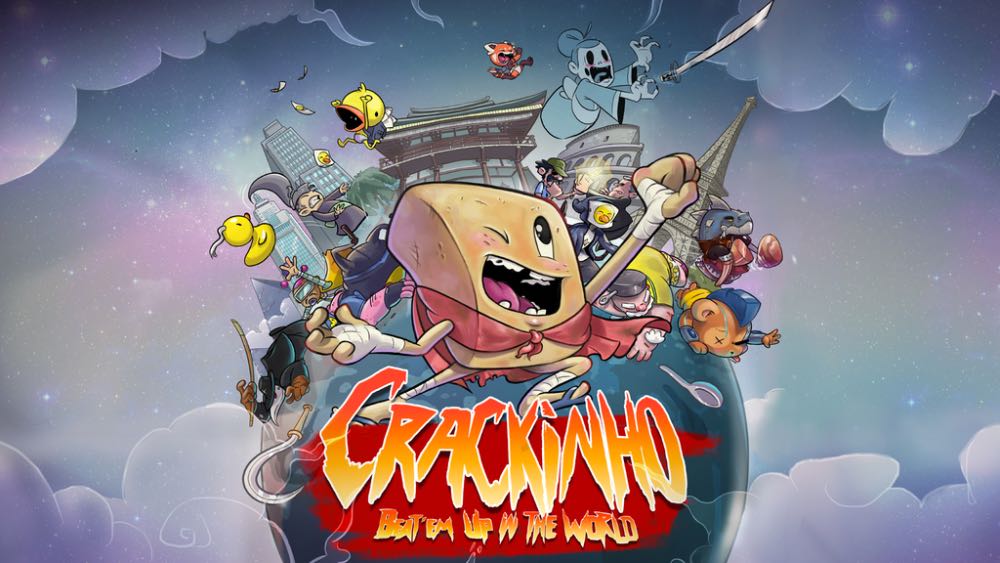 We're partnered with Skillshare, where you can do unlimited online courses that'll help you create art, make games, and even help you with school/university! Click here for a free 1 month trial.
For this week's Switch Kickstarter Project of the Week, we will be looking at Black Onyx Interactive's Crackinho – Beat'em up in the World. The game is slated to release in April 2020 on PC with plans to release on consoles (however, no consoles have been specified). Here's the overview:
Join Crackinho in this sarcastic Beat' em Up against crime throughout big cities at specific time eras all around the world!

Crackinho is inspired by classic 90's Beat 'em up games like Streets of Rage, Final Fight, Battletoads, River City Ransom, among others.

Although inspired by theses games, ours is a fresh and modern take on this Genre. Crackinho Beat' em Up is quite different, because besides the classic brawling, it adds a lot of special attacks and variations for the same strike.

The scenario was 100% made by us, the concepts, 3D models and textures. The traditional 2D animations, inspired by Cuphead, gives it a pinch of charm to the game.

We're also planning to launch the multiplayer version and online co-op.
As you explore the game, you'll unlock new features for customize the character such as hats, clothes, toys, visual aspects and special attacks.

The more you go further the funnier it will become!

Crackinho is a superhero who was born in the suburbs of São Paulo. He is the result of an unsuccessful lab experiment. And now he and his group have the mission to discover the origin of these problems and combat social injustices.

The responsible for all of this is a chemist named Dr. Laércio Snow, who created a hallucinogenic and stimulating substance, capable of creating addiction and controlling the entire planet.

Now Crackinho and his gang must fight crime around the world with a good sense of humor.

Crackinho Beat' em Up in the World is a comical and fresh take on the Retro Fighting Games of the Old Arcades. You can join Crackinho and his Friends on this Adventure with the following Features:
Fight Crime and its Lackeys throughout Cities like São Paulo, Tokyo, Rome, Cairo, London, among others, all in different Time Periods and Parallel Realities!
Beat'em up over 5 different Enemies per Level, each with their own Skills, Tactics and Designs, based on the City and Era they are terrorizing, to spice up the Challenge!
Discover different Stages as you uncover more Characters, all while having fun in the humorist world of Crackinho!
Play with Friends and find Hidden Passages or Bonus Levels!
Train in the field of Martial Arts, unleash your inner strength and find said special moves like "High Dropper", an attack based on Capoeira, or "Fiya Laeza", an Energy Blast from the Tips of your fingers, but never forget to keep an eye on the Mana Bar or else you might end in a tight situation!
Just like the Old Timer Arcades, once you go forward there is no coming back, so advance in the Stages at your own risk, for the Levels get harder and there are sure to be awesome Boss Fights at the end!

Crackinho – Beat'em up in the World's comic book charm is a common aesthetic but with its smooth gameplay and unique character, this one looks to stand out amongst the crowd. The idea of fighting in different countries during both past and future time periods is sure to provide a lot of variety that will keep everything fresh and exciting. Crackinho looks to be a cracking game!
Crackinho – Beat'em up in the World requires €50,000 and is currently sitting at €6,026 after 53 backers with 55 days remaining. So if you'd like to support the development of this game and support some hard work developers in their time of need, click the link below to visit the Kickstarter page.
Thank you to our $5 and up Patreon Backers for their ongoing support: