Details on Super Nintendo World at Universal Studios Florida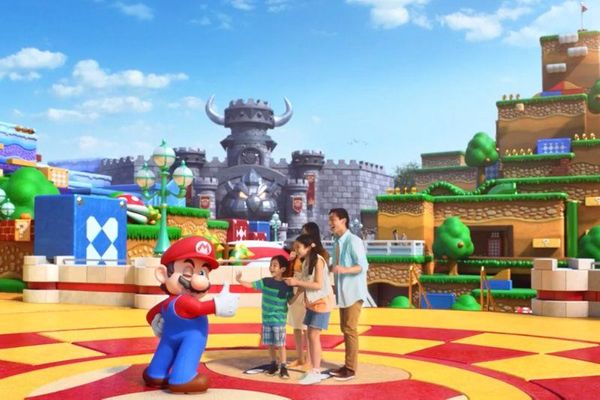 We're partnered with Skillshare, where you can do unlimited online courses that'll help you create art, make games, and even help you with school/university! Click here for a free 1 month trial.
For those looking for an immersive, nostalgia-filled experience, the new park at Universal Studios devoted to iconic Nintendo characters and worlds is bound to hit the mark, and its opening may only be a few short years off.
After years of rumors– and the confirmation last summer that a Nintendo-themed addition to Universal Studios Japan was going to be unveiled coinciding with the 2020 Winter Olympics– we got confirmation last month that the Nintendo-themed park was also coming to the state-side location in Florida.
TravelandLeisure reports that the park will replace the Woddy Woodpecker's KidZone area which is a section of the park currently aimed towards younger park-goers. This new Nintendo-themed area though, will surely be a treat for just about anyone born after 1970 or so though, as the park will feature properties that date back to the classic era of Nintendo games. And though characters and worlds like Mario, Donkey Kong and the Mushroom Kingdom are sure to be featured heavily, other Nintendo-owned franchises such as The Legend of Zelda might also end up making an appearance.
The site ThemeParkUniversity got their hands on a supposed leaked map of the park which includes much further detail on the potential layout of the park, which is shown to be sandwiched between the currently standing Simpsons ride and the classic E.T. Adventure ride– and if the leak turns out to be accurate, then everyone from Link to Kirby will have their own dedicated area within the park.
There is even reports of a possible plan for a new animated film by Universal featuring Mario, the release of which would conincide with the opening of the park. WFTV reports that "Sources have said the idea is to expand on a possible film project with Illumination Entertainment, the studio behind 'Despicable Me,' to eventually make a Super Mario Brothers CG movie."
At this point though, there is still much that remains unknown about the park beyond the confirmation that it will be built on an 8.8 acre plot which is detailed in the construction permit. Even the Japanese counterpart is still shrouded in some mystery at this point.
The only attraction that has been confirmed for that park is a Mario Kart-themed section, and it could probably be safely assumed that this will also be featured at the Florida location as well. Further details though- like if this ride might be virtual-reality-oriented- are still scarce, but much of this information should become available throughout the next two years as plans are finalized.
For now, we'll have to hold tight a little longer for more details. Potential leaks such as the prospective map mentioned above at this point will only add to the already long-standing rumors about this park that have accumulated over the past few years. There are rumors from an apparent leak, for instance, of a "puzzle theater" with a Zelda-theme, which will feature an interactive theatrical experience that involves theater seats that move around mechanically.
If impressive attractions like that are pulled off well, and the park delivers on the deep nostalgia and love that fans already have for these properties, then the park is sure to be a success on par with other parks themed after well-known properties like Legoland and the Wizarding World of Harry Potter, also located at Universal Florida. Parks like these offer immersive experiences that allow fans to interact with the worlds that these franchises are built on, and are irresistibly fun slices of pop culture to inhabit when done well.
And if rumors of a Universal feature film starring the red-capped plumber are to be believed, then the new park will fall even further in line with recent trends given recent efforts by theme parks to include rides and attractions that correspond to the most recent phenomenons in Hollywood. From the Despicable Me ride at Universal to the recent focus placed on Star Wars at Disney World, park-goers clearly enjoy these timely attractions. Indeed, after the 2012 acquisition of Star Wars by Disney in 2012, their parks began featuring attractions that correspond to those films, just as a new slew of Star Wars films began to be released, with a whole section of Disney World becoming devoted to it in 2019.
And even if a Super Mario film doesn't materialize, there's still a ton of added relevance to Mario and pals recently, given the huge success of the Nintendo Switch and the Super Nintendo Classic Edition.
While we wait, prospective park-goers will have to bide their time by sifting through rumors and hype online, and for now, will have to settle for this characteristically upbeat trailer for the Japanese version of the park.