Descenders - Switch Review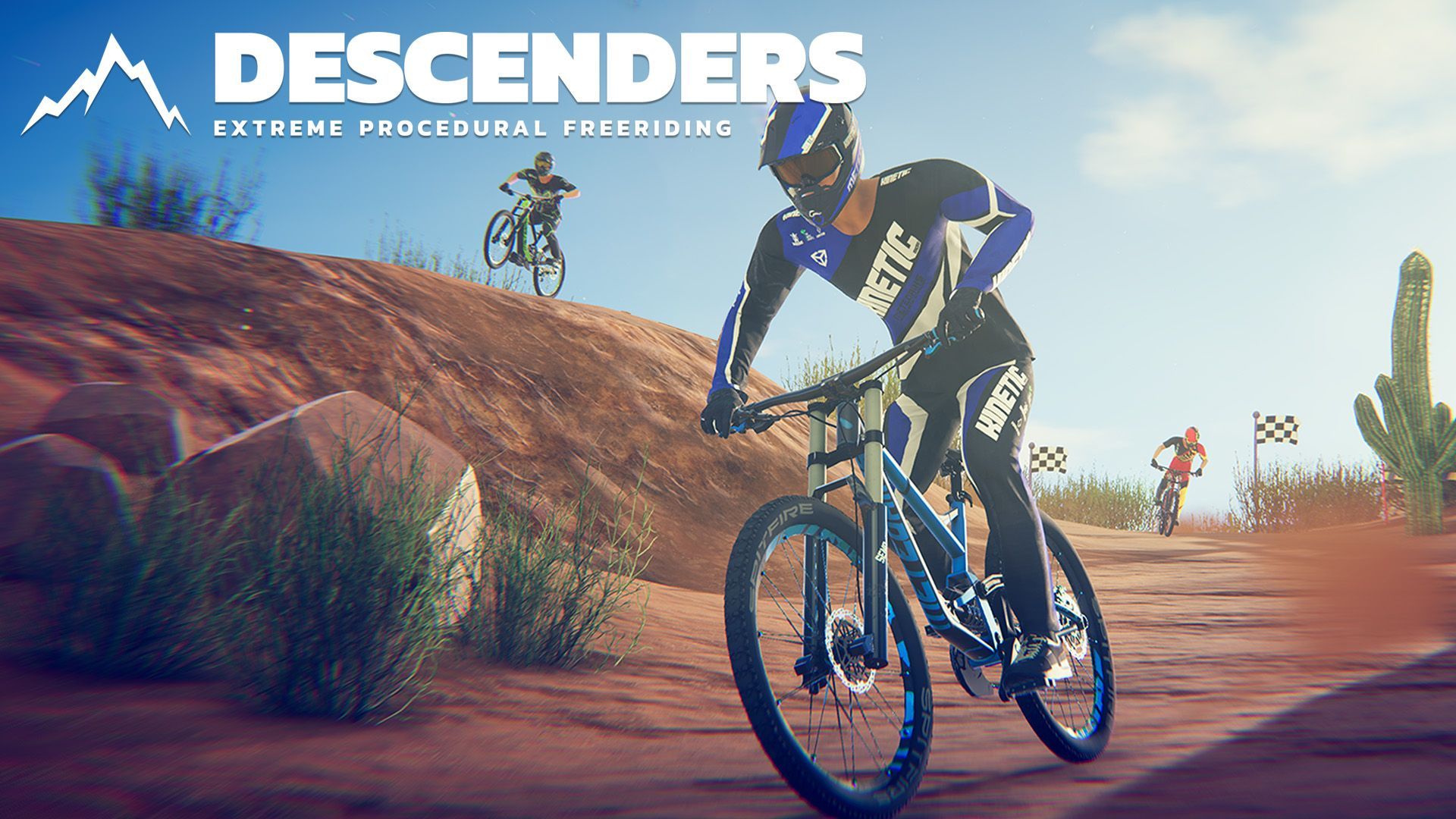 We're partnered with Skillshare, where you can do unlimited online courses that'll help you create art, make games, and even help you with school/university! Click here for a free 1 month trial.
Descenders is a downhill bmx game that allows you to play in your own style. Be that pure speed, performing stunts in the air or bypassing the track all together by going off-road, there is no wrong way to play. Make your way from the hilly highlands up to the mountain peaks without crashing too much and make your mark in history.
Gameplay
Descenders is an extreme sports game where the core gameplay is to ride your BMX down a track to the finish post. In Career mode, you start off by completing one track and then you're left with an open map with nodes placed within. These nodes are different tracks and branch out to each other with the goal being to reach the boss node that is signalled by a skull. The challenge to Career mode is that whenever you crash, you lose a life with four lives total when you start a run. Each track you perform on is procedurally generated with a bonus objective that, when completed, will give you a bonus life. There are three main factors to a track being the steepness, the curves of the track and the amount of stunt platforms added and these are shown before choosing the node so you have some choice in the kind of track that you take to the boss track. Career mode is where you will spend the majority of your time in the game; it is a fun way to see how far you can progress through a run and can be played in shorter bursts.
Enjoying our Descenders Switch review so far? Don't forget to like us on Facebook and follow us on Twitter for more Nintendo Switch content. Also, please consider supporting us on Patreon so that we can continue to do what we love doing.
There is the option to race over in Freeride where you get to set the parameters of the track and where you can race. This can lead to some insane tracks where you travel on one that is purely steep going at 105 KM/H before you smash face-first into a tree because you nudged a little too far to the left. Pure crazy unadulterated fun. If you really want to test your skills in the game, head over to the bike parks to play on Bikeout – a parody of Wipeout.
World / Level Design
Descenders' levels are nicely themed as you progress through with your run, leading to more and more challenging areas that require more skill. Unfortunately though, the individual tracks in each level are procedurally generated which I personally think leads to a few issues. While it does allow for more replayability, I had moments where I took a jump and overshot the landing due to going too fast and then crashed, losing a life with no way to prevent it. It also leaves the tracks feeling more like player-created tracks due to ramps and jumps being all pre-existing set pieces that get placed around, so you'll see the same jump several times in a run.
Story / Personality
There is not much of a defined plot present in the game however there is an implied story of a rookie biker who performs on the tracks and attends sponsorship events to eventually get picked up by a team. Games in the extreme sports field tend to not really have much of a story so I wasn't really expecting anything but the neat idea of doing tasks that your sponsor puts forward to get more gear with their brand on is a fun one. While there is a lack of story, using your imagination and the tidbits of gameplay that can be used to make one is serviceable at least.
Graphics / Art Direction
Descenders is surprisingly well designed with a more realistic look that holds up even in handheld mode on the switch. The levels have their own theme and the art direction portrays them quite well with grassy fields and sparsely placed trees in the highlands to swarms of trees in the forests. Descenders is really consistent in the graphics throughout the game and I never noticed any visual issues or frame drops while playing.
Music / Sound Design
Music in this game will change depending on what area you are biking in but they all have a similar style being more from the electro family of music. Personally, I am a little disappointed by the lack of other genres because I find that the soundtrack is usually a major factor in games like this and cementing them in the public consciousness (e,g, Tony Hawk's Pro Skater's soundtrack. I do have to give props to the sound design behind the bike where it'll change from pushing the pedals to letting the wheels spin without pedalling at higher speeds.
Final Score: 85%
Descenders is a genuinely well made game that is a lot of fun to play and suits handheld mode for quick runs whilst travelling or on break at work. Unfortunately, the procedurally generated feature does leave the levels feeling a bit lackluster, resulting in unmemorable moments apart from the ones you make yourself. If you enjoy extreme sports, this is definitely a great game to pick up and for the average player, there is a fair bit of fun to be had as well.

[su_button url="https://www.amazon.com/Descenders-Nintendo-Switch/dp/B0869KQMV7/ref=sr_1_1?dchild=1&keywords=descenders+switch&sr=8-1″ target="blank" style="3d" background="#2a17b3″ size="8″ center="yes" text_shadow="0px 0px 0px #000000″]Click here to buy Descenders from Amazon[/su_button]

Thank you for checking out our Descenders Switch review, thank you to Five Star Games for providing the review code and thank you to our $5 and up Patreon Backers for their ongoing support:
Belinda Cubitt
Jon Crispe
Matthew Sandstrom