Batbarian: Testament of the Primordials Coming to Switch in October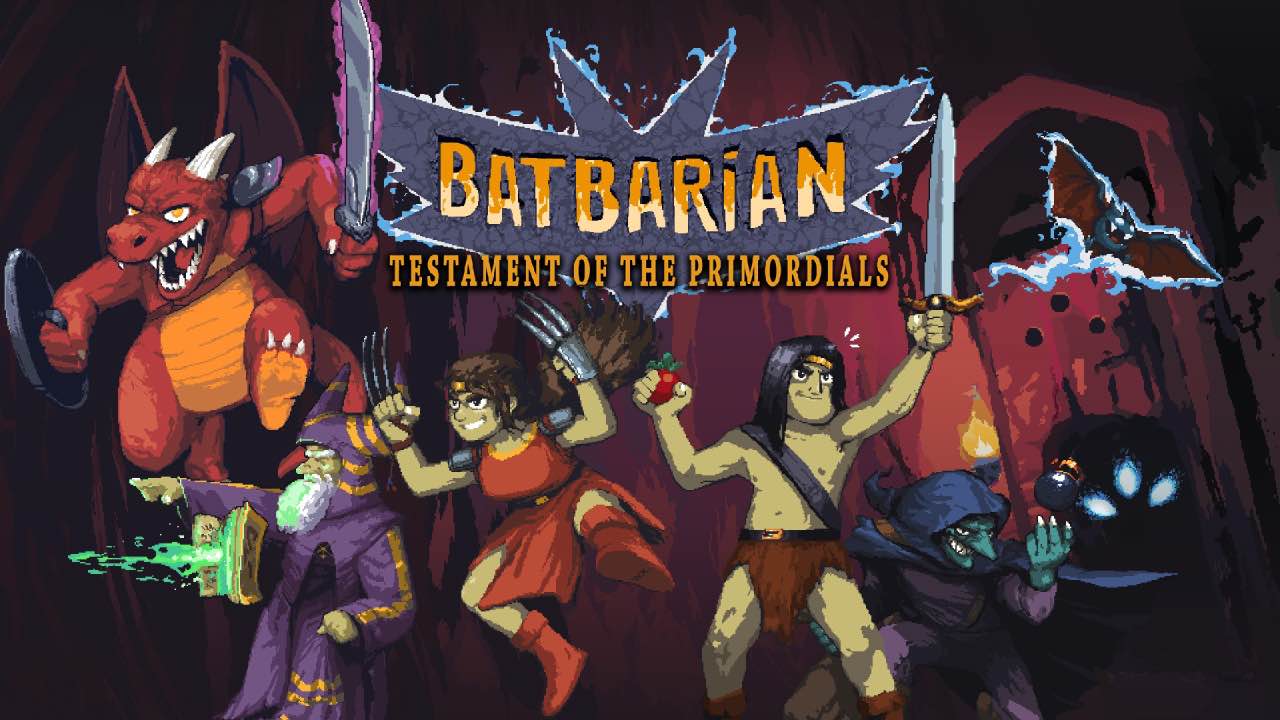 We're partnered with Skillshare, where you can do unlimited online courses that'll help you create art, make games, and even help you with school/university! Click here for a free 1 month trial.
DANGEN Entertainment, the publisher who recently brought Bug Fables and Minoria to Nintendo Switch has now announced that it will be bringing Batbarian: Testament of the Primordials next month on October 15th.
Here's the full press release:
Unspeakable Pixels and DANGEN Entertainment have announced the release date of Batbarian: Testament of the Primordials on Switch and PC for October 15th, 2020. 

Batbarian: Testament of the Primordials is a narrative-driven, 2D action adventure with an emphasis on puzzles and heavy dose of snark and humor. Players choose one of two barbarian characters at the beginning of the game and dive (literally) head first into a denizen-filled, dungeon-crawl through the shadowy depths of an eldritch abyss. But not by choice! They must use their barbarian fighting skills to fend off foes and make use of their magical bat buddy, Pip, to light up the way and solve puzzles to advance through the massive underworld. Along the way, they will interact with a comical cast of characters through dialogue selection and uncover the secrets behind their strange predicament. Players will explore hundreds of secret-filled rooms, fight big bosses, gather companions for their party and use the powers of Pip to solve riddles and escape the peril of the eldritch abyss.

Batbarian features 400+ rooms of exploration, 20+ hours of evolving gameplay, 10+ bosses, 60+ minutes of pumping music and 30,000+ words of dialogue to explore. The game includes RPG elements with a level-up mini game system and multiple endings based on player choices and actions. In addition to attacking and jumping, players can use the right analogue stick to aim and throw various fruit that Pip will chase and react to, creating a deep element of puzzle solving in the game. For example, if players throw sticky fruit on a wall near a magical switch, Pip will chase the fruit and spend a few seconds eating it while activating the switch. Players must then progress through the puzzle before Pip finishes eating the fruit and deactivates the switch. NPC characters will join the player, creating an added element of action and strategy to the gameplay. 

"I am extremely excited to finally get to share our game with players all around the world. Like many other indie game stories, Batbarian has been quite the journey -of 4 years- and I'm really proud that we've stuck to our original vision. This is a massive game. I can't wait to see if players can find all the secrets and hear their reactions to the twists and surprises we've put into the game," said Frederic Tarabout, lead game designer at Unspeakable Pixels. "Thanks to everyone who's believed in us, supported us and helped us bring the world of Batbarian to life. I've dreamt of creating games since I was 6 and it's finally coming true, thanks to you!"

Batbarian: Testament of the Primordials will be shown at Tokyo Game Show 2020 and arrives on Switch, Steam, GOG, Humble Store and itch.io in time for Halloween on October 15th, 2020.

Story
*Crash* …That was the sound of you landing face first in an abyss filled with monsters, traps, and eldritch secrets. But hey, it's ok barbarian, you are not alone: Pip, your best friend -and mysteriously luminous bat- is with you. And it's only by truly working together that you'll be able to solve the abyss' puzzles, fight off its hungry denizens, discover its true purpose and maybe -just maybe- make it out alive with the secrets of the primordials.
Key Features
Gain new skills for your barbarian and elemental powers for Pip, the (magic) bat!
A narrative-driven metroidvania with dialogue choices and plenty of humor and snark.
Big numbers! 400+ rooms, 20+ hours of evolving gameplay, 10+ bosses, 60+ minutes of music and almost 30,000 words of text that a barbarian would never bother to read!
Puzzles.
RPG elements with a level-up minigame.
Contains more fruit throwing than probably any other game.
Companions that join you in your quest and help you out in fights.
Multiple endings based on your choices and actions.
The thrown fruit are NOT wasted, they are eaten by the bat (who is magic).
A ton of secrets and hidden loot just about everywhere.
The (magic) bat has a whopping FIVE different squeaking sounds!
Fewer repetitive jokes than this description has.
Source: DANGEN Entertainment PR