14 of the Best Upcoming Switch Games for Q1 2021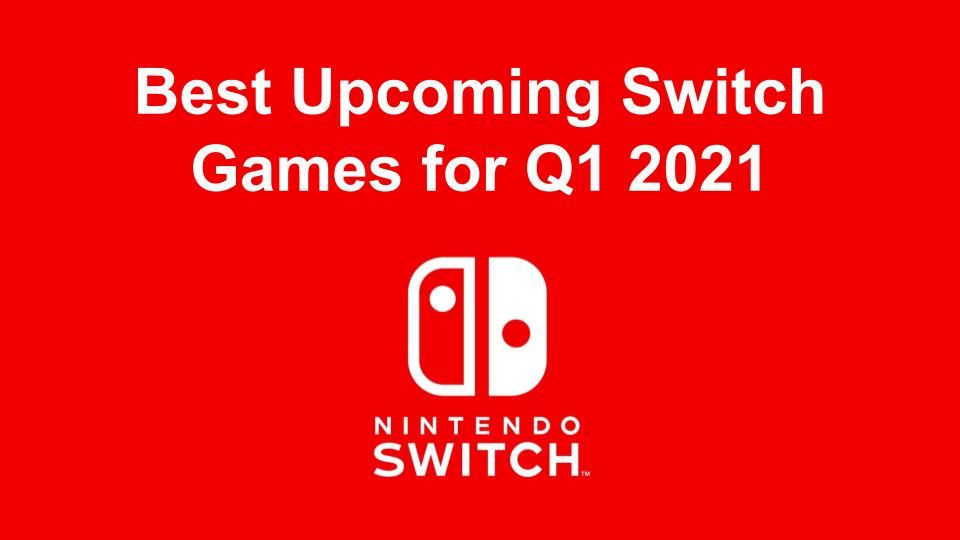 We're partnered with Skillshare, where you can do unlimited online courses that'll help you create art, make games, and even help you with school/university! Click here for a free 1 month trial.
2021 may be a tad cloudy for the Nintendo Switch but if you look closely, there are quite a few upcoming switch games for Q1 2021 to keep your eye on. We've compiled 14 of them in a list that will have you hyped for the new year.
Scott Pilgrim vs. the World: The Game - Complete Edition
Release Date January 14
Developed By Ubisoft
Published By Ubisoft
Genre Action / Beat 'em Up
Players 1 - 4
Inspired by the comic series (and that movie with Michael Cera), Scott Pilgrim vs. the World: The Game takes the iconic cartoon world and thrusts it into a classic beat 'em up. On a mission to defeat Ramona's League of Evil Exes, Scott soon learns that the road to his love's heart isn't as simple as initially anticipated. Topped off with a 2D sprite-based, comic book art style, Scott Pilgrim vs. The World: The Game gives a new meaning to the term "fight for the one you love".
Atelier Ryza 2: Lost Legends & the Secret Fairy
Release Date January 26
Developed By Koei Tecmo / Gust Co.
Published By [Unknown]
Genre RPG
Players [Unknown]
Less than two years after the original Atelier Ryza launched in October 2019, the sequel looks to expand on its JRPG throwback approach. This new entry has you uncovering the secrets of the five ruins and the mystery of Fi, a cute rabbit-like fairy. Freely explore a magical world with interactive landscapes, mounts to ride and climbable cliffs, Atelier Ryza 2: Lost Legends & the Secret Fairy will take the series to grand new heights.
Olija
Release Date January 28
Developed By Skeleton Crew Studio / Thomas Olsson
Published By Devolver Digital
Genre Action / Adventure / Platformer
Players 1
Olija tells the tale of a man stranded and trapped in the country of Terraphage. Alone with nought but his will to survive, he must fight his way to freedom. The ticket to his freedom comes in the form of a legendary harpoon that he can throw, recall and dash toward at will. Inspired by Asian fantasy and sailor folklore, Olija looks to hold many more secrets than its minimalist art style lets on.
Woodsalt
Release Date January
Developed By Team Woodsalt
Published By [Unknown]
Genre RPG
Players [Unknown]
In a game that's inspired by late 90s JRPGs, Woodsalt is a psychological thriller set on a distant planet known as Nu-Terra a full 1000 years after the evacuation of Earth. When Emcy awakens after a one thousand year stasis, he is spoken to by an unknown voice that points towards a mysterious unrest with concerns that there is more to keeping them from leaving than meets the eye.
Little Nightmares II
Release Date February 11
Developed By Tarsier Studios
Published By Bandai Namco
Genre Adventure
Players [Unknown]
Keeping in the spirit of sequels, Little Nightmares II has you play as Mono, a young boy exploring a dark and horror filled world. His purpose is to uncover the mysteries behind The Signal Tower and put an end to the madness that it causes. Accompanied by Six, a young girl in a yellow raincoat, they will uncover a host of terrifying monsters that are nothing if not nightmare-inducing.
Super Mario 3D World + Bowser's Fury
Release Date February 12
Developed By Nintendo
Published By Nintendo
Genre 3D Platformer
Players 1 - 4
Fans have been wanting to see Super Mario 3D World be ported to Switch since we learned that almost every Wii U game would undoubtedly come to Nintendo's hybrid console sooner or later. This title is currently the lowest selling 3D Mario game at 5.86 million copies, only 50,000 copies less than the GameCube's Super Mario Sunshine (not including its inclusion of Super Mario 3D All-Stars). However, that will likely change come February 12 when the jolly four player co-op 3D mario title will be coming to Switch, along with the addition of Bowser's Fury that we still don't know much about expect that it has dark vibes and a lot more cat ears.
Persona 5 Strikers
Release Date February 23
Developed By Atlus / Omega Force / P Studio
Published By Atlus
Genre RPG / Action
Players [Unknown]
Persona 5 is coming to Nintendo Switch… kind of. Persona 5 Scramble is a horde-battling action game or in other terms, a musou title in the same vein of Koei Tecmo's Dynasty Warriors series. With a continuation of the award winning story from the PlayStation 4 exclusive's Persona 5, fans will be delighted to delve back into the world that they fell in love with on the go.
Bravely Default II
Release Date February 26
Developed By Team Asano / Claytech Works
Published By Nintendo
Genre RPG
Players 1
The Bravely series thrived on the Nintendo 3DS with Bravely Default and Bravely Second: End Layer and now, it's getting the HD treatment with Bravely Default II on Nintendo Switch. Despite a cringeworthy Aussie accent in the October Nintendo Direct: Partner Showcase trailer, the new entry revolves around a seemingly inevitable calamity and a diverse party of Heroes known as the Heroes of Light. Their mission is to use their variety of Jobs to ensure the safety and peace to the continent of Excillant.

Story of Seasons: Pioneers of Olive Town
Release Date March 23
Developed By Marvelous
Published By XSeed / Marvelous
Genre RPG / Simulation
Players 1
When contemplating whether to have the new Story of Seasons title or Harvest Moon: One World on this list, the last six years made this decision much easier to make. Story of Seasons: Pioneers of Olive Town has you once again taking over your grandfather's farm, this time in Olive Town that contains a vast untamed forest. Make Olive Town your own by discovering the secrets it has to offer. With a lot more freedom in how you design your farm and all new townsfolk to befriend, Story of Seasons: Pioneers of Olive Town presents more opportunities than ever before.
Balan Wonderworld
Release Date March 26
Developed By Square Enix
Published By Square Enix
Genre Action / 3D Platformer
Players 1 - 2
From the legendary Sonic creator Yuji Naka comes Balan Wonderworld, a 3D action platformer bursting with colourful personality. In Naka's first title since departing SEGA, there are 12 stages to explore that offer a host of environments and over 80 costumes that each provide unique abilities. Despite Balan Wonderworld looking a little worse for wear on Nintendo Switch compared to its counterparts on more powerful hardware, this game simply oozes Nintendo charm that will fight right at home on Switch.
Monster Hunter Rise
Release Date March 26
Developed By Capcom
Published By Capcom
Genre Action
Players 1 - 4
A brand new instalment in the longrunning and beloved Monster Hunter series and this time, it is a Nintendo Switch exclusive. Despite missing out on Monster Hunter World, the Nintendo Switch will be home to Monster Hunter Rise, a Japanese inspired entry that looks to implement new features like climbing, dog companions and cool energy grappling hooks that let you swing in mid-air.
Cris Tales
Release Date Q1 2021
Developed By Dreams Uncorporated / SYCK
Published By Modus Games
Genre Action / Adventure / RPG
Players 1
Anyone else seen this game at the bottom of the "Coming Soon" section of the eShop and never having a confirmed release date? Well, Cris Tales still doesn't have a "confirmed" release date and yet, Modus Games say that it is expected to release in Q1 2021. Cris Tales, with its stunning 2D setting, is a love letter to classic RPGs with branching stories and a unique time mechanic that allows you to peak into the past, make decisions in the present and see how these actions have an effect on the future.
Haven
Release Date Q1 2021
Developed By The Game Bakers
Published By The Game Bakers
Genre Adventure / RPG
Players 1 - 2
With the unfortunate delay of the Switch version, The Game Bakers' Haven is looking to arrive on Nintendo's console sometime in early 2021. This RPG features two lovers who simply want a life of cosy freedom away from the hustle and bustle of the world. Glide across and between planets and enjoy a heartwarming story of love and survival.
She Dreams Elsewhere
Release Date Q1 2021
Developed By Studio Zevere
Published By [Unknown]
Genre Adventure
Players 1
Inspired by Earthbound and by games it inspired, She Dreams Elsewhere takes us to a world full of sombre melancholy and a colour palette that reflects it. When Thalia dreams of a world unbeknown to her and a weapon she has never held before, she must fight to protect herself and uncover the meaning behind the strange dreamworld whilst being a functional member of society in the real one.
If there are any exciting titles that we have missed, please feel free to reach out to us on Twitter @switchaboonews.
Thank you to our $5 and up Patreon Backers for their ongoing support:
Belinda Cubitt
Jon Crispe
Matthew Sandstrom