10 Best Nintendo Switch Games for Christmas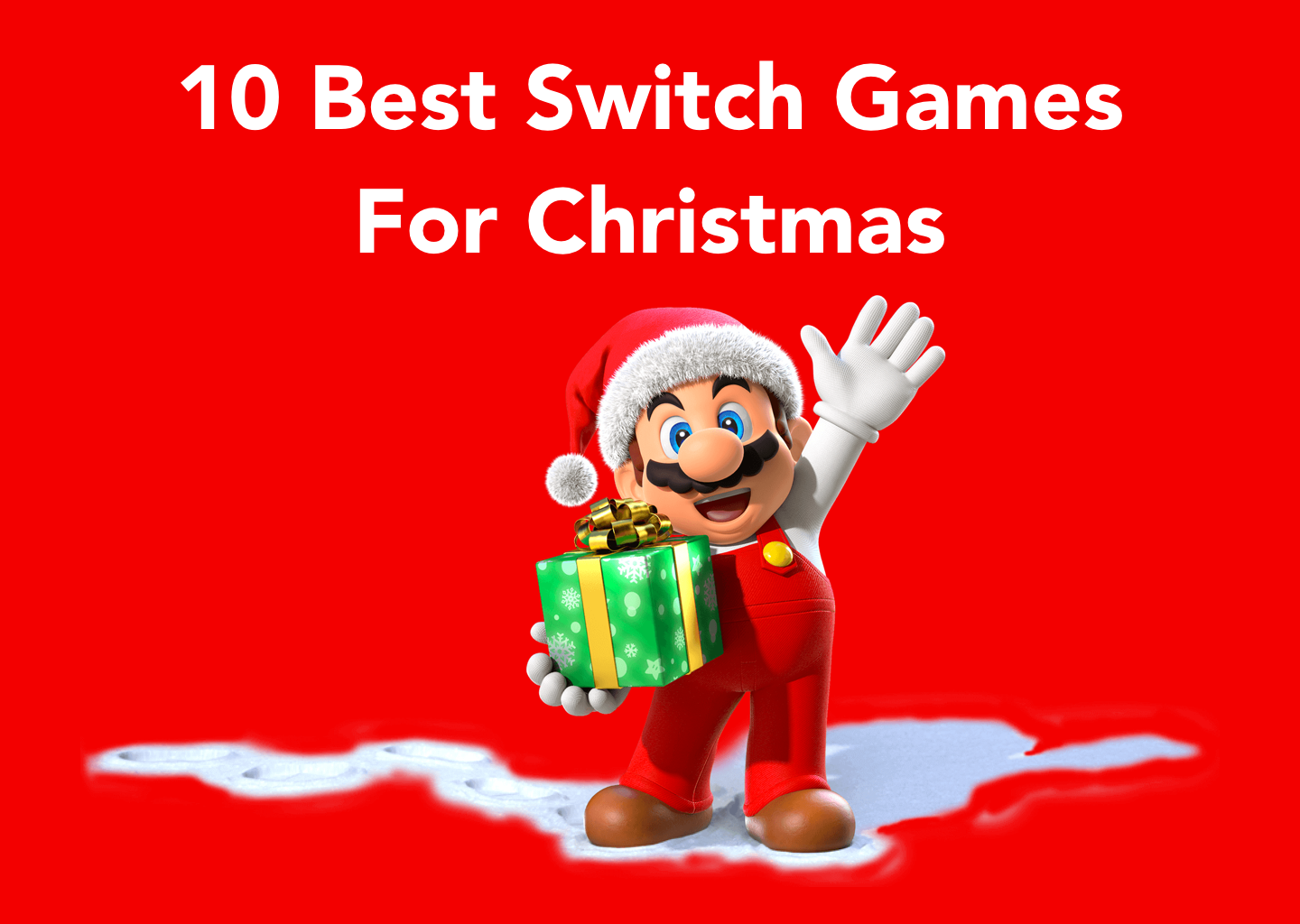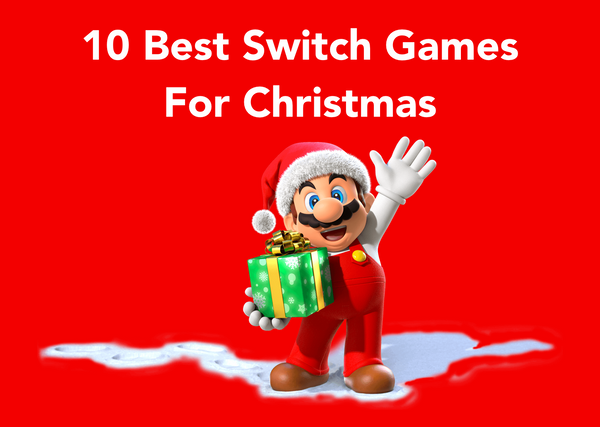 We're partnered with Skillshare, where you can do unlimited online courses that'll help you create art, make games, and even help you with school/university! Click here for a free 1 month trial.
So it's December. The air positively reeks of Christmas cheer. The quaint little observation "Hasn't the year just flown by?" is grating on your ears. Shopping centres have become warzones and Christmas carols blare unreservedly from every shopfront. And you're still picking your brains over what to get those fussy tech-heads.
First of all, relax. Whether you're a stressed-out student with a strict budget, or a parent whose eardrums have burst due to the unrelenting demands for the latest in gaming technology, we've got you covered. Allow us to present the Nintendo Switch: your answer to purchasing the very best gift this Christmas.
Despite its slow start, the Switch now boasts an impressive library of critically acclaimed titles. So many, in fact, that the next question you should be asking is: Which are the best games for me? Here you'll find all the information you need to decide on which games you'll be wrapping up this Christmas, as well as some of the best deals to ensure that this incredible gift won't break the bank. As our present to you, read on for our Top 10 Best Nintendo Switch games this festive season. Merry Christmas!
The Legend of Zelda: Breath of the Wild
Breath of the Wild
smashed the gaming community's expectations with its launch alongside the Switch in March this year. It still consistently tops the charts today, and has repeatedly been named the greatest game of all time. Breath of the Wild was so phenomenally popular that it outsold the Switch itself in its first month. That's right – the game was more popular than the console needed to play it! It goes without saying that Breath of the Wild is an absolute essential for any Switch owner.
Spurning the strict linear structure of past Zelda games, Breath of the Wild thrusts players straight into the heart of adventure. From the very outset players have at their dispensary all the tools needed to explore the sprawling overworld. This unrestricted approach to exploration encourages players to experiment with the beautifully rendered environments to discover their own unique solutions to puzzles and challenges. Come across a group of enemies who are giving you grief? Drop a beehive on them. Toss a flaming stick at an explosive barrel and blow their camp to smithereens. Run a hundred paces in the opposite direction, pause time, whack a metal cube a few times and send it soaring gracefully towards an unsuspecting baddy's midriff. The Possibilities. Are. Endless.
Bottom line: If you're going to get one game for the Switch, make it this one. With one DLC pack already available, and the second to be released before the end of the year, there's more than enough content to keep a casual gamer occupied until next Christmas.
Who will love it: Everyone. I'm not kidding. Zelda veterans and newcomers to the series alike will adore this game. It's the perfect gift for adventurers, explorers, collectors… I could go on. The list is endless, but the fact is I can't imagine anyone not liking this game.
Christmas Bonus: Why not go and chop down your very own Christmas tree in-game? There are plenty of snow-capped pines in the mountain regions for you to choose from. You can't actually decorate it with fairy lights, but you can release some fairies around it and then set it on fire, which is basically the same thing.
Where to buy it:
You can buy The Legend of Zelda: Breath of the Wild
from Amazon here in the US. Or, you could make it an extra special present by getting the Explorer's Edition
for just a little more but for that extra gifty feel. For Australians, Ozgameshop has it for a teensy bit cheaper than the standard retail price at $77.99. And JB Hi-Fi, Target and Big W are all selling for $79:
Super Mario Odyssey
Mario's back with a brand-new adventure in Super Mario Odyssey
, bursting at the seams with hundreds of challenges and vibrant new worlds to explore. Woo-hoo!
This time our favourite, surprisingly-athletic plumber is long-jumping, ground-pounding and whooping incomprehensively across a delightful array of vast Kingdoms – each with their own aesthetic charm and unique puzzles – in search of precious power moons. Each sandbox-style level is chockfull of challenges, from traditional 2D platforming to monumental boss battles. The sheer number of challenges is mind-boggling, yet the immense variety keeps them from becoming stale.
As with all Mario games, Odyssey's focus is on pure fun. Aided by his new companion Cappy (a celestial top-hat that resides in Mario's cap, of course), our hero's newest ability is to possess the objects and beings that inhabit these colourful worlds. Taking command of a ten-high stack of goombas, or a horrifyingly realistic T-Rex, is a thrilling mechanic that grants Mario new and creative ways to seek out those tasty, tasty power moons. Seriously, doesn't everything in this game look delicious? No? Well, if the stunning visuals don't impress you, the shedloads of secrets concealed in every nook and cranny certainly will.
Who will love it: Once again, this is a must-have for everyone. Engaging gameplay, accessible controls and loveable characters – what's not to like? The co-op function that allows a second player to control Cappy is a nice addition, and perfect for letting younger or less-skilled players 'contribute' without messing up your save file.
Christmas Bonus: Tired of draping tinsel over the Christmas tree? Why not become a Christmas tree? That's right. Mario can possess a tree. It's not a bad trick to pull out during the festive season.
Where to buy it:
Get Super Mario Odyssey from Amazon here
. It's also available in a bundle with the Switch here
, if you don't own a Switch already.
Harvey Norman has the game slightly cheaper than other retailers, coming in at $67:
https://www.harveynorman.com.au/super-mario-odyssey-nintendo-switch.html
If you're after the console as well as the game, Big W has the cheapest bundle at $529:
https://www.bigw.com.au/product/nintendo-switch-super-mario-odyssey-edition-console/p/665644/
Splatoon 2
Splatoon 2
? Wait, you're saying there's a third-person shooter on a Nintendo console?!
Well … sort of. Swap out the violent weapons and hardy assassins for ink-filled water pistols and squelchy Squid/Kid hybrids, and you've got the next best thing. Actually, it's hardly fair to compare the two. This game brings its own unique features to the world of third-person shooters that you won't find anywhere else, along with that classic Nintendo charm that makes this an appealing game for all ages.
Splatoon 2 brings back the vibrant, messy turf wars that defined the original game. Wielding ink as your weapon, the goal is the cover as much ground as possible without getting splatted by your opponents. With a substantial single-player campaign, online multiplayer, and a completely new online and local co-op, Splatoon 2 comes fully stocked with everything Nintendo perfected with the first game, and then some.
The engrossing gameplay is bolstered by the unique character and design choices. The fluorescent ink, the upbeat J-Pop jams, the grungy urban vibes – it all meshes perfectly to craft an punky youth aesthetic to go with the violently colourful battles. You'll find yourself drawn into the game's world, where your priorities are purchasing fresh threads, part-timing the odd Salmon Run shift for bonuses, or simply squidding around Inkopolis and absorbing all the dank memes. Splatoon 2 has an online community like no other, and the game has something for everyone.
Who will love it: If you're looking for light-hearted, online multiplayer fun, this is the game for you. It's a little different to your average shooter (i.e. less carnage, more funny sound effects) and suitable for players of all ages. It's especially great if you enjoy motion controls.
Christmas Bonus: Get it with a set of new Green and Pink Joycons or the Splatoon Pro controller for the freshest look on the block.
Where to buy it:
You can get Splatoon 2 from Amazon here
. If you've already fallen in love with the color palette but don't yet have a Switch, you can also grab it from Amazon in a bundle here
 with special edition Joy-Con colors.
$67 over at ozgameshop with free delivery:
https://www.ozgameshop.com/nintendo-switch-games/splatoon-2-nintendo-switch-game?auto
EB have got it for $57 preowned, which might be worth checking out.
https://ebgames.com.au/nintendo-switch-223620-Splatoon-2-preowned-Switch
There's also a couple on EB's official eBay page:
http://www.ebay.com.au/itm/Splatoon-2-Switch-PREOWNED/292351196686
Stardew Valley
Ever fantasised about rejecting the monotony of the daily grind, relocating to the countryside and beginning your life anew? Ever felt disappointed by the crushing realisation that it's just not going to happen? Well not anymore! Now there's a way to live out your dream of managing a farm in the picturesque countryside without ever leaving the comfort of your home. Welcome to Stardew Valley
.
At its core, Stardew Valley is a humble farming simulator. You obtain some crops, diligently water them every day, sell them, and use the profit to work on improving your little patch of paradise. Sounds simple, but that's only the beginning. Once you get started you'll soon realise how much deeper the game goes towards capturing the essence of quiet, country life. Chat with the villagers. Spend a day fishing. Explore the mines. Consult with the wizard. Appease the magical fruitlike creatures that have taken up residence in the local community centre. You know, regular stuff country folk do. It's all up to you. Stardew Valley never forces players down any strict path; rather, it encourages you to craft your own story. It's a wonderful change from objective-oriented games that limit you to a certain approach.
The Switch edition breathes new life into what was already an accomplished game. Now you can tend to your virtual farm on the go, making it easier than ever to take a refreshing break from the pressures of the modern world.
Who will love it: Lovers of Harvest Moon or any other farming simulators are going to adore the cute pixel-art and familiar mechanics. It's also great for anyone looking for a low-stress, relaxing game to plod away on after a long day.
Christmas Bonus: Can't get enough of this Christmas cheer? Just wait until winter rolls around in game. There's a special event for all you Christmas fanatics out there.
Where to buy it:
This one's only available as a digital download (you can get a code over at Amazon
), but it's a real steal compared to the higher price tag on other consoles. Get it on the Nintendo eShop. Definitely a good one for a Christmas Day download.
1-2-Switch
1-2-Switch
is one of those goofy party games that monopolises on gimmicky controls and novelty features – and it's not half bad!
Serving as an introduction to the Switch's unique features, 1-2-Switch is essentially a set of minigames that demonstrates the capabilities of the console and the Joycon controllers. It's a great game to bust out as an icebreaker if you prefer human interaction over staring at a screen. Why not stare at each other instead? Intently. Without blinking. Then shooting each other at the precise moment a disembodied voice tells you to.
That's one of the games, in case you were wondering. And there are plenty of other ridiculous concepts that will have you and your friends in stitches. 1-2-Switch is absurd, but that's what's great about it. It's less about being competitive and more about everyone getting a good laugh out of watching your friends pretend to milk a cow. Nintendo embraced this wackiness right from the beginning, even going so far as to take on real dairy farmers in a cow-milking contest in a bizarre PR stunt. This wackiness pervades throughout what is a decent variety of games, each showcasing an interesting mechanic to play around with. It's definitely a novelty, but it's one that's worth having.
Who will love it: It's a pick-up-and-play game that's accessible to everyone, seasoned gamer or not. If you're easily embarrassed or not a fan of gimmicky controls it might be best to avoid this one, but it's always good for a laugh and bit of light-hearted fun.
Christmas Bonus: This is a perfect game for Christmas Day when the whole family is together. Set up Grandma with the gorilla game and watch as she pounds her chest to the beat. Watch Uncle Jim strut his stuff down an imaginary catwalk. It'll be a riot, I promise.
Where to buy it:
You can get 1-2-Switch
from Amazon here. Standard prices everywhere else, with Target as one of the lowest:
https://www.target.com.au/p/nintendo-switch-1-2-switch/60327413
ARMS
What the title lacks in creative ingenuity, the gameplay of ARMS
more than makes up for. This third-person fighting game comes with a twist. Two twists, actually, in the form of spring-loaded, weaponised arms that are used to battle from opposite corners of expansive and eccentric arenas. Not a bad title after all, eh?
With an attractive, cartoonish cast of characters to choose from, along with loads of unique arms to mix and match, there's a remarkable depth to this game. Once you take into account the additional actions like blocking and dodging, as well as each set of arms' special attributes, you end up with a complex combat system that's easy to learn, but difficult to master. The optional motion controls are tight and intuitive – a far cry from the old days of Wii Boxing. Breaking through an opponent's defences and landing a punch with perfect timing feels as satisfying as solving a puzzle. You'll need more than frantic arm-flailing to succeed once you hit the online multiplayer (although this is still a surprisingly viable strategy for newcomers). But with the right tactics and a good set of arms, you'll reach the top in no time.
Who will love it: Fans of fighting games, motion controls, or anyone with a bit of repressed anger they need to work out. Speaking of working out, this game could potentially have you working up a sweat from the safety of your couch, depending on how vigorously you want to go at the motion controls.
Christmas Bonus: Turn off those carols for a moment and get everyone singing along to the ridiculously catchy theme-song. Seriously, it's impossible to avoid getting it stuck in your head.
Where to buy it:
ARMS
can be bought from Amazon here.
Ozgameshop does it again with decent $63.39:
https://www.ozgameshop.com/nintendo-switch-games/arms-nintendo-switch-game
Otherwise there's always trusty Big W or Target for you standard $69:
https://www.target.com.au/p/arms-switch/60559982
https://www.bigw.com.au/product/arms/p/630747/
Overcooked
To get an idea of what you're in for with this silly co-operative game, you need look no further than the opening tutorial. The overly dramatic scene reveals an apocalyptic future in which a small team of chefs are the only people who can save the world. How, you ask? Why, by travelling back in time and perfecting their cooking skills through a series of gruelling challenges in order to gain the competence to feed the mighty monster than threatens their world, of course!
Overcooked is a chaotic (and I suspect somewhat accurate) representation of the everyday stresses in the life of a chef. Team up with up to 3 friends to satisfy hungry customers in a vast array of outlandish restaurants, each designed to push your time-management skills (and friendships) to the limit. Just when you think you're getting the hang of it, the game throws in rats that steal ingredients, counters that swap places, and even a conveyer belt that casually drops ingredients into the bin if you're not quick enough.
Sound stressful? It is. But the best thing about this game is that even when it's at its most chaotic, even when the music steps up in tempo and you're sweating and screaming at each other and there's lettuce on the floor and everything is on fire, it's still hilarious. In my experience, once the uncontrollable laughter dies down it is invariably followed by a debriefing session which always ends with "Okay, this time we've got it," only to have the plan fall to pieces within a few seconds. But the real joy is in working together and adapting to the situation. Plus, there's always the option of venting your frustration by getting your cute characters to let out a little stream of swear words. It's particularly therapeutic after you've dropped a burger off the edge of a moving truck… and subsequently followed it down.
Who will love it: Master Chefs and sticklers for time-management are going to have a ball with this game. It's probably not the best choice for those who want a nice, relaxing co-op game without all the screaming and button mashing.
Christmas Bonus: Lucky for you, Overcooked on the Switch comes included with all its expansions, and one of them is Christmas-themed. Now you can relive the stress of preparing Christmas dinner all over again!
Where to buy it:
Downloadable title, available on the Nintendo eStore.
Mario + Rabbids Kingdom Battle
If someone asked me for a list of mash-ups that could never – ever – work, this one would be near the top. Right beneath "Godzilla meets Peppa Pig." It's no surprise the developers kept it secret for so long. Even the game's composer, Grant Kirkhope, didn't know this was a Mario game until being brought in to Ubisoft's head office and locked behind security doors! When Mario + Rabbids Kingdom Battle
was finally announced, it was initially met with confusion and ridicule. It was hard to imagine the unlikely combination working in a cohesive game. Luckily for us, we were wrong. So very, delightfully wrong.
The bizarre setup sees Rabbids invade the peaceful Mushroom Kingdom and, true to form, immediately begin wreaking havoc. As Mario and a select group of Rabbids take up arms and progress through expertly designed tactical battles, it's impossible not to fall in love with this game. The humour is constantly on point, ranging from the Rabbids' slapstick antics to some absolutely puntastic weapon descriptions. It's clear that the developers had a lot of fun with this game. The soundtrack is phenomenal, the environments are jaw-droppingly beautiful, and the world is packed full of goodies to collect. And all that's without commenting on the actual core gameplay! The turn-based combat system features a satisfying mix of action and strategy, and the bite-sized battles are perfect for the Switch. But be warned, they're incredibly addictive, and it's easy to find yourself caught in a constant cycle of "just-one-more."
Who will love it: Fans of Mario, Rabbids, and turn-based tactical games are going to love it. If you haven't played similar games before, it's still worth picking up, particularly if you're a fan of awful puns.
Christmas Bonus: For more challenges, why not get the DLC as an additional present. It's an easy choice if you want to surprise someone with something extra (or if you're feeling a bit like a lazy Rabbid and don't want to actually go out and buy something).
Where to buy it:
Get Mario Rabbids
from Amazon here.
Pretty standard $69 across the board. Target has a good price, as always:
https://www.target.com.au/p/mario-rabbids-kingdom-battle-switch/60722959
Mario Kart 8 Deluxe
Is there anything that says "Merry Christmas" more than a well-timed shell homing in on your rivals mere moments before they cross the finish line? It's truly the greatest gift of all. Unless you're on the receiving end, in which case there's practically nothing worse. Still, can't have a Nintendo console without Mario Kart
, and can't have Mario Kart without it being the biggest destroyer of friendships since the invention of Board Game Night.
Mario Kart 8 Deluxe is a revamped version of the Wii U classic, fine-tuned to perfection and including all the DLC plus some nifty extras. The deluxe version for Switch features new characters and an updated battle mode, making it an absolute must-have for the essential multiplayer racing experience. Playing with your friends is now even easier with the Switch's snap-off joycons, meaning you can race anywhere, anytime. The new additions make it a worthwhile purchase, even if you owned the original on Wii U. Besides, what Nintendo console is complete without this iconic entry?
Who will love it: Fans of racing games, or egotistical maniacs who live for the thrill of the dreaded blue shell (note: these are not mutually exclusive categories).
Christmas Bonus: The best thing about giving someone Mario Kart as a present to someone is that they're automatically obliged to play it with you. You can't lose with this one. Mario Kart for everyone!
Where to buy it:
You can get Mario Kart 8 Deluxe
from Amazon here.
Standard $69 everywhere else:
https://www.target.com.au/p/mario-kart-8-deluxe-switch/60494832
Skyrim
Ah, Skyrim
. The game that keeps on giving. Or … the game that keeps on getting given to us, whether we asked for it or not. Regardless, here it is again in approximately its 3,946th iteration, and this time it's on the Switch!
To be fair, there's a reason this game refuses to die. What's not to like about embarking on an epic quest as a sword-swinging, magic-wielding Dragonborn? This modern classic allows you to hone your skills to suit your playstyle, granting players the freedom to cultivate their own adventure in this narratively rich world that is laden with deep lore and mysteries. Plus, dragons!
If you haven't got a copy already, the Switch is a great contender that goes above and beyond other editions thanks to its added motion controls. The graphics may not be as crisp as newer editions on other consoles, but the portability more than makes up for it.
Who will love it: If you're into fantasy, chances are you'll be interested in Skyrim.
Christmas Bonus: Like Zelda, Skyrim is another game where you'll be able to find a nice little Christmas tree somewhere up in the mountains. Ayy, we've come full circle. Merry Christmas everyone!
Where to buy it:
Skyrim on Nintendo Switch
can be found here at Amazon.
Big W comes in at the best for Australians with $69:
https://www.bigw.com.au/product/the-elder-scrolls-v-skyrim/p/667976/
Gamesmen isn't bad at $68 but you'll have to factor in shipping costs: