Samba de Amigo: Party Central - Switch Review
"It's time to shake your maracas!"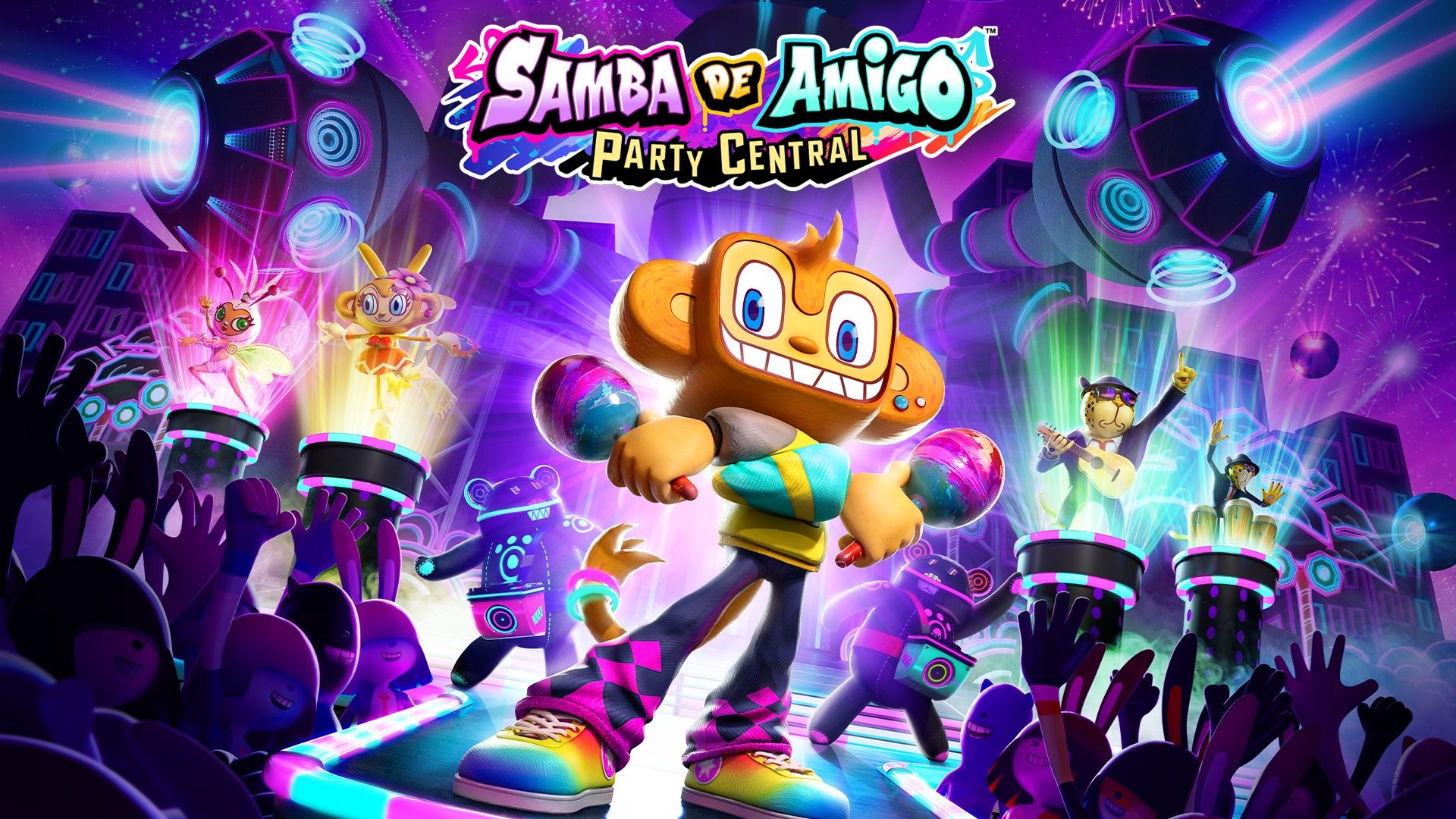 We're partnered with Skillshare, where you can do unlimited online courses that'll help you create art, make games, and even help you with school/university! Click here for a free 1 month trial.
It's time to shake your maracas with Samba de Amigo: Party Central on the Nintendo Switch! Play five different modes, such as; rhythm games, World Party, Party for two, Streamigo, and online play with friends. Select your favourite songs from a collective mix of over 40 songs from well known artists like Pitbull, Lady Gaga or your favourite SEGA games such as Sonic  Adventures 2 or Space Channel 5. Go against 20 real players online in a battle royale like no other or play online with your friends, it's up to you. Or why not play streamigo solo as you complete missions, earn rewards and followers to become the biggest influencer on the planet.
The Good
Samba de Amigo was originally developed by Sonic Team and published by SEGA, released back in arcades in the glorious 90s. The machine came with red maracas attached to the machine that you could shake to the music, giving the player a physical instrument to interact with and making the experience far more enjoyable for the player (and looked rather hilarious for people on the sidelines looking in).
The last time I played the franchise was back on the Sega Dreamcast in the late 2000s which I thoroughly enjoyed. After I watched Samba de Amigo: Party Central footage on Nintendo's February's Direct, I was pleasantly surprised to see the game looked similar to its predecessors and retained the same six rings in a circle where notes would fly from the centre and pass through each ring, determining which direction you should shake your maracas in.
Upon starting the game, you have the option to select from two control methods: motion controls or buttons; the latter works surprisingly well and is definitely the preferred way to play the game. The set-up is simple: six rings are arranged in a circle and beats fly from the middle, striking each ring either together or separately and you're tasked in hitting each beat when it comes in contact with a ring.
Holding each Joy-Con in an upright position, front position or facing them down will allow you to hit in many different angles and not only that, you will be tasked in shaking repeatedly, swiping or posing in a number of different ways as the beats fly.  
This sounds complicated to explain but it's relatively easy in practice and feels very natural and fun. I found the accuracy worked quite well, and the button controls work fine in a way that allows you to sit (especially useful if you don't feel like getting up and dancing around the room).
While there are plenty of modes on offer, I found the Streamigo mode to be my main focus; feeling like the main campaign mode, of sorts. This mode sees you playing different missions, such as getting a perfect score or completing a song against a rival. Completing a mission rewards you with new followers; the more followers you have, the more rivals will follow you back and unlocking more missions and songs for you to play. You'll earn rewards as you rank up and earn coins so you can buy the many cosmetics in the shop to customise your look for online play. Speaking of which…
The online battle mode was a real favourite of mine as you can battle against 20 other real world players across three phases of difficulty. This earns you power-ups as you play, allowing you to turn the tides of battle in your favour. It's nice seeing other players winning and losing in real time. At the end of each phase, players who performed poorly will be defeated, winners move onto the next phase and so on. In my time online, I never quite managed to get past the second phase, but it was certainly enjoyable trying.
TL;DR
Both motion and button controls
40+ songs plus DLC offerings
Engaging Streamigo Mode
Online play with 20 players is great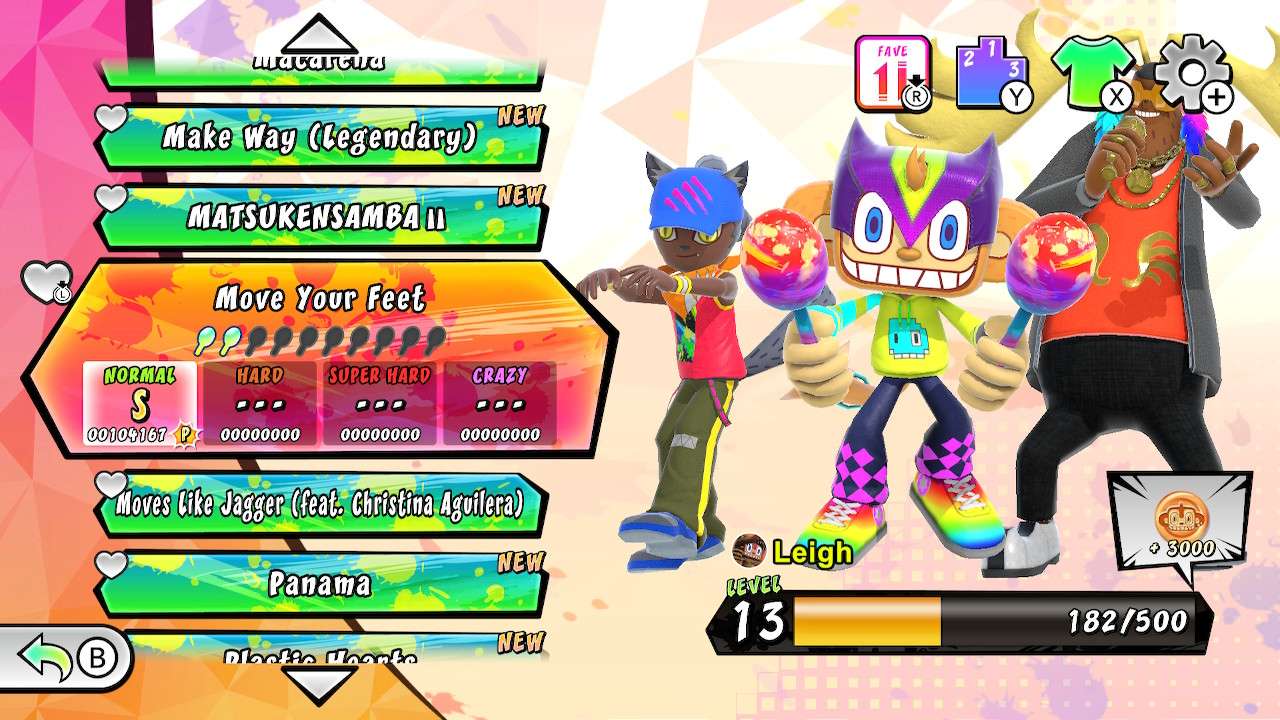 The Bad
Samba de Amigo: Party Central's stages in each song start out pretty dull but as you play well, the stages become populated with characters, lights, effects. It's here where things can become a little distracting with so much happening on screen at once. This can sometimes mean you may ruin a perfect combo due to the background effects distracting you; it has happened to me on occasion.
And while the song list has a range of different types of music, some tracks are just not fun to play (I'm looking at you Fugue in G minor). Some songs also feel out of place and just not fun to shake along to. We can only hope that this can be rectified by the DLC offerings in the future.
This is more of a personal gripe but because the songs are copyrighted, if you post a video capture from your switch console on to social media, the video is silent as the songs are removed from the video. This basically ruins the point of sharing videos in the first place. I'd prefer this to be a removed feature as part of the charm of the game is its music and without it, it feels almost pointless watching a rhythm game in complete silence.
Finally, no maracas SEGA? That's unforgivable! I know a third party will probably make some but SEGA could have made a limited edition bundle with them in and made a killing! That being said, they have included HD Rumble in the Joy-Cons to recreate the feeling of the maracas, but it's just not the same.
TL;DR
Backgrounds can become distracting
Some songs aren't great
Pointless video capture
No maracas included

Final Score: 8/10
I've found Samba de Amigo: Party Central to be a really enjoyable rhythm game. Your mileage may differ depending on how much you enjoy the song list; the game offers enough fun for solo players in the Streamigo mode, and multiple with online and local multiplayer modes. There's also plenty of incentive to keep playing in order to rank up and unlock the plethora of cosmetics to show off your style to the world.
Thank you for checking out our Samba de Amigo: Party Central Switch review, thank you to SEGA (via Five Star Games PR) for providing the review code and thank you to our Patreon Backers for their ongoing support:
Bel Cubitt
Jack Caven
RedHero