Kickstarter Project of the Week: Roots of Pacha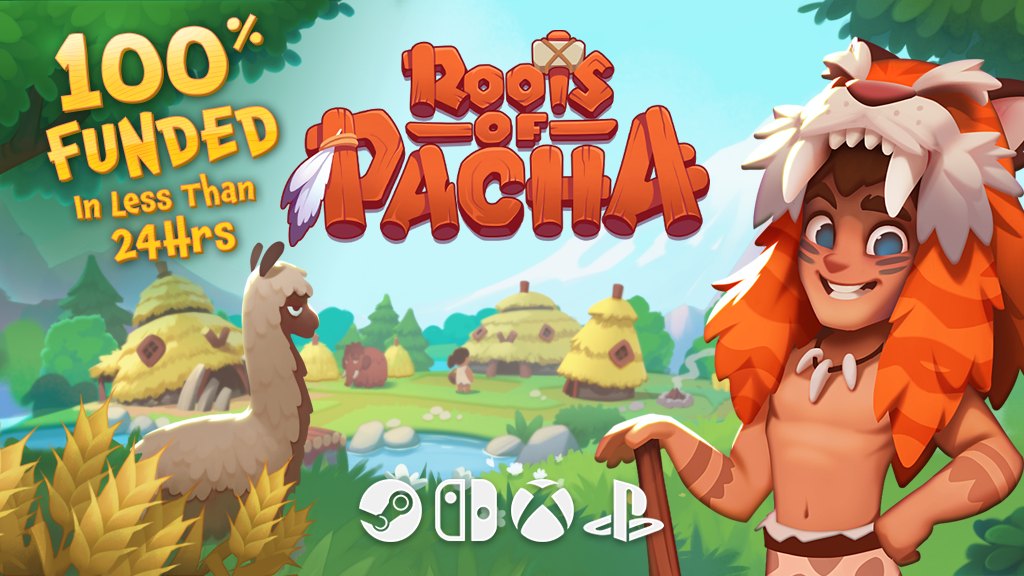 We're partnered with Skillshare, where you can do unlimited online courses that'll help you create art, make games, and even help you with school/university! Click here for a free 1 month trial.
For this week's Switch Kickstarter Project of the Week, we will be looking at Soda Den's Roots of Pacha. The game is slated to release in April 2022 on Windows PC (via Steam) and Nintendo Switch, followed up by releases on Mac OS & Linux (via Steam), PlayStation and Xbox consoles.
Here's the overview:
Roots of Pacha is a co-op farming and life simulation game set in the stone age. Help your once nomadic clan settle in a promised and fertile land. By connecting with nature you'll develop Ideas to evolve, enrich your culture, relationships, and discover the mysteries of Pacha, mother nature.

Roots of Pacha is first and foremost a farming sim. But that doesn't mean it has a seed or animal shop. Part of settling means exploring the wildlands to discover new plants and improving them, making wild variants more nutritious and valuable.

By adding to the Clan's seed storage and gaining knowledge about plants, you'll also discover new, more domesticated varieties.

Throughout the world and seasons, you'll encounter families of animals, which at first appear to ignore you. By slowly approaching and enticing them, you'll befriend them and even invite them to live with you. Animals are a core part of Roots of Pacha as they have also been in our human history: sources of nourishment, protection, and friendship.

Caring for your furry and feathery Clan members will eventually let them breed and evolve into new species.

Start fishing the shallow waters, ankle deep, waiting for the fish to come near you for the right moment to catch them. As you evolve, you'll invent new tools and techniques for fishing to reach deeper waters with larger fish.

Venture deep, through the cracks of the world to find resources needed to evolve and also encounter the spiritual world. Will you accept the challenges of the Wise Owl Totem?  Solve puzzles to gain access to their powers and reach places hidden in the world.

Share your adventure with baby animals you'll find around the world that just don't grow any larger!
This game required USD$35,000 and it is currently sitting at USD$87,198 after 1,766 backers with 25 days still remaining. With the original goal reached, we now look to the stretch goals where the developers are hoping to add a Ball Sport at USD$100,000, an Iron Age at USD$125,000 and a Volcano Cave at USD$150,000. If you'd like to support the development of this game, click the link below to visit the Kickstarter page.
Click here to check out Roots of Pacha
Click here to check out the last Kickstarter Project: Mask of the Rose
Thank you to our $5 and up Patreon Backers for their ongoing support:
Bel Cubitt
Jon Crispe
Matthew Sandstrom