Circuit Superstars - Switch Review
"A great racer on the Nintendo Switch."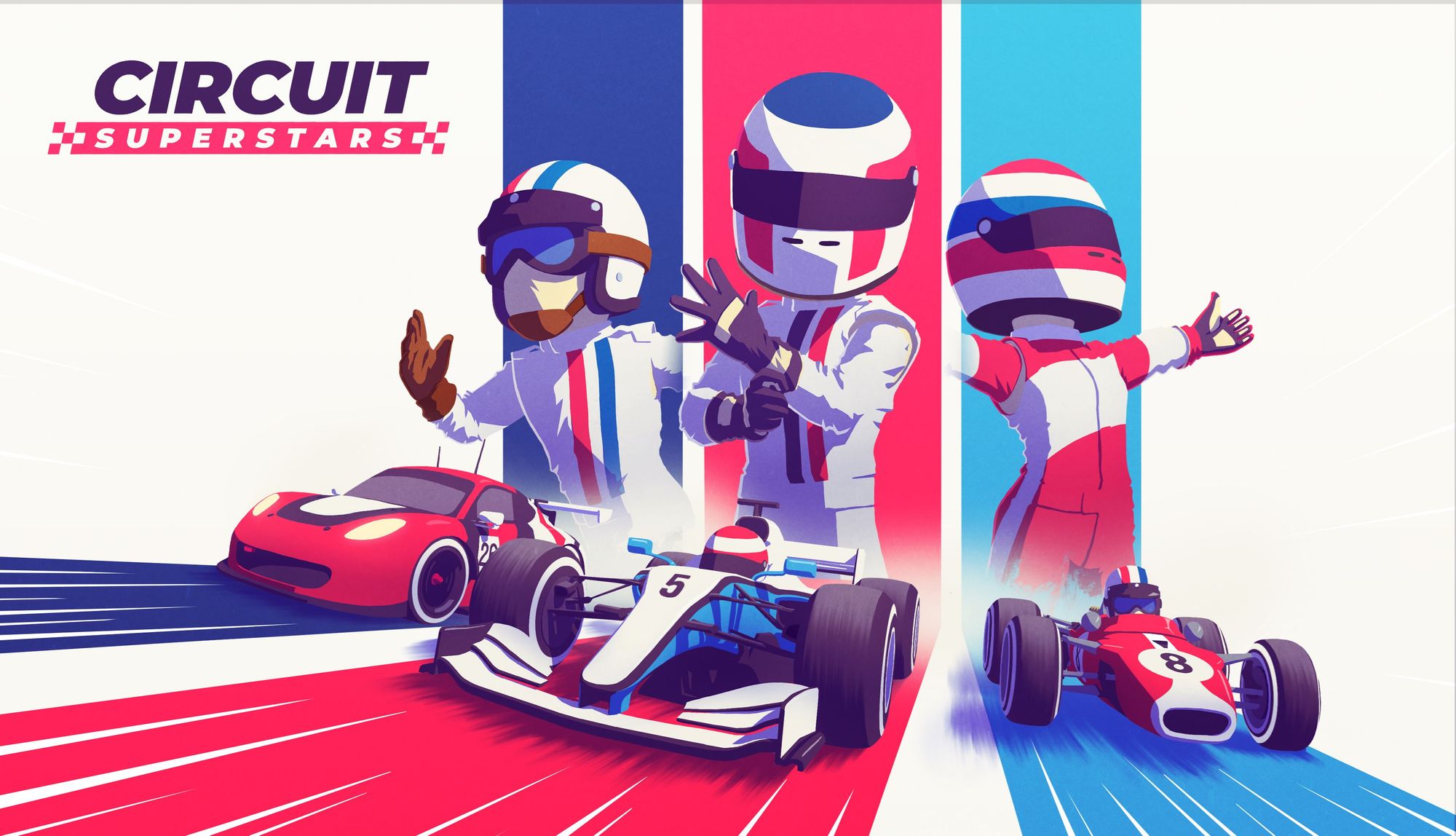 We're partnered with Skillshare, where you can do unlimited online courses that'll help you create art, make games, and even help you with school/university! Click here for a free 1 month trial.
Circuit Superstars is a top-down racer built by racing fans, for racing fans, and it has finally arrived on Nintendo Switch. Drive 15 vehicles ranging from 1950s GT, formula 1, muscle car and trucks, among others. Rank up and earn rewards; like liveries for your vehicles and helmet patterns to customise your driver and stand out from the pack! From there, you can head into the Grand Prix mode and strive to win against the best through 16 cups across 19 tracks and 13 locations. Or venture into the time trial mode to test your driving skills against the best both online and off. Better yet, play online with friends and let them eat your dust as you aim for the number one spot!
It's time to race… gentlemen, start your engines!!!
The Good
Upon starting up Circuit Superstars, your first point of call should be Grand prix mode which consists of 16 cups across five difficulty settings. Each cup will take you through multiple tracks, starting with a qualifying race. Once you've completed that, it will determine what position you'll start in, at which point you'll start a race which can take anywhere between five laps to 15. Finally, completing a cup will allow you to rank up, earning rewards and unlocking the next cup, and so on.
Each cup will introduce new vehicles, starting with something pretty easy to handle, like the mild mannered piccino (which reminds me of a mini cooper), to more exotic cars like the Conquest, which is a super fast racer and reminds me of the Devel Sixteen concept. While they are not branded off any real car manufacturers, you definitely see inspiration for each one. Also, the handling is different for each vehicle depending on the track's terrain which will challenge even the most seasonal gamer. There is also a little mechanic in the game that allows you to use pit-stops to refill your fuel, fix any damage you may have taken and change your tires. Not doing so will slow your car down and may affect your performance.    
Apart from the main mode, you can also play in practice mode to try out any tracks or try your hand at getting the best times in the time trial mode, earning your place on the online leaderboards or even go online and race with your friends for bragging rights. There is also optional DLC to purchase which unlocks the Top Gear: Stig challenge mode and Top Gear time attack modes on the eShop.
Finally, completing grand prix cups or time trials will earn you experience that will allow you to level-up, earning new rewards like helmet patterns, car liveries, emotes and medals, so there's also something to strive for.
TL;DR
Grand Prix mode is pretty substantial
15 unique vehicles and two DLC cars
A variety of modes
Rewards and unlockables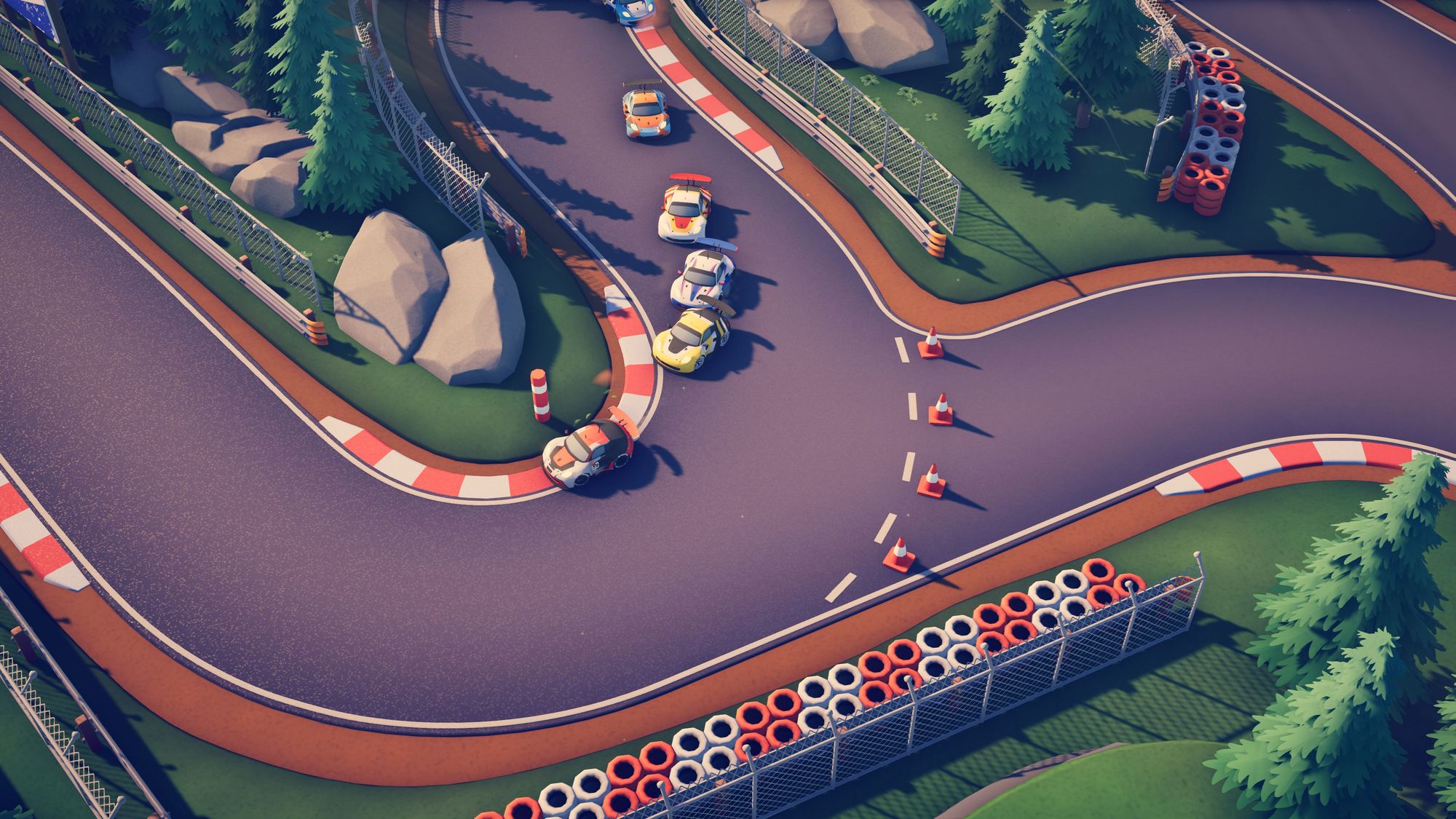 The Bad
The inconsistent performance online when playing with friends dips up and down regularly throughout races. Hopefully this gets fixed sooner rather than later as the developers seem to be actively improving the title with frequent updates.
One little issue was when playing with friends, the online host can select the vehicles for everyone, though instead of actually seeing the cars, they are given the cars' class and name. This may be useful for people who know every individual class, but it wasn't very beginner friendly when we tried it. We ended up with vehicles that were not suitable for the track we had picked; F1 Formula racers on a rally track, no thank you!
If your friends decide to play using the DLC: Caravans, the game loses its mind and most of the players (including me) became not only invisible to other drivers racing, but also our caravans would jump across the screen like they were having a fit. It was pretty hilarious when it first happened, but just beware of the issue.
I found Circuit Superstars takes itself a little too seriously at times. I wished the races were a little more fun and frantic like Micro Machines. There's nothing wrong with wanting a realistic top-down racer, but I did get a little bored when the laps exceeded more than 10 taps during a race. It's different in a third-person racer as things are happening like car crashes, weather effects, etc. but here, there is nothing really going on when you're actually racing; there are no weather effects or exciting scenery to take in which makes you a little numb to what's going on after a while.
TL;DR
Online stuttering and bugs
Issues using DLC online
Repetitive

Final Score: 8/10
Circuit Superstars is a great racer on the Nintendo Switch and there's a lot to enjoy here. The Grand Prix mode and time trial will definitely be where you spend most of your time, just make sure you have an online subscription if you want to use the online modes properly. While the game may take itself a little too seriously for my liking, there's nothing inherently wrong with that and in every other aspect, it's a solid racer.  
Thank you for checking out our Circuit Superstars Switch review and thank you to our Patreon Backers for their ongoing support:
Bel Cubitt
Jack Caven
RedHero